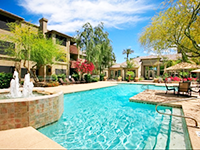 Phoenix, AZ - ABI Multifamily, a dedicated multifamily brokerage and advisory services firm has announced the $19M+ sale of The Hawthorne Condominiums in Phoenix, AZ. The Hawthorne is a former apartment community that was originally built in 1996 and condo converted in 2005. The bulk sale consisted of 182 condominium units, out of 276 total units. The $19,110,000 purchase price for the 182 units reflects a per unit price of $105,000.
This purchase is the first in the Phoenix Valley for the San Francisco Bay area buyer. The buyer will continue to operate the property as a rental community, with the possibility of selling off individual units in the future, as the individual for sale condo market continues to prosper since the downturn.
"For the buyer, The Hawthorne checked all the boxes. Occupancy at the property was consistently north of 95% and rent collections were strong, with the opportunity to further raise them through additional renovations. The Midtown location is a desired submarket that has seen large capital investments in recent years. The 1996 build and 2005 condo converted property is considered an "A" class luxury community," according Doug Lazovick, Partner at ABI Multifamily.
The Hawthorne Condominiums is a three story garden-style condominium community located at 3848 North 3rd Avenue in Phoenix, AZ. The property was built in 1996 as a traditional class "A" class apartments and converted to individual condos in 2005. The property is located in Midtown Phoenix, which is just North of Downtown Phoenix. Midtown is home to many of the valley's premier employment and entertainment options. Residents are within walking distance of the Phoenix Light Rail transit system, providing easy access to the entire Phoenix Valley. "Midtown Phoenix has become a very desirable location as the burgeoning urban core continues to attract capital and a strong resident profile," stated Rue Bax, Senior Managing Partner at ABI Multifamily.
The Hawthorne consists of a mix of one-, two- and three-bedroom units, that average just under 1,000-square-feet. All units have individual HVAC systems and hot water heaters, full size washer/dryer and a private patio/balcony. Select units have been renovated with high-end condo grade finishes inclusive of granite countertops, newer cabinets, tile flooring and stainless steel appliance packages. The fully gated community boasts many common area amenities including two swimming pools, two spas, fitness center, rental office, clubhouse and barbeque grills.
The Phoenix based ABI Multifamily brokerage team of Doug Lazovick, Rue Bax, John Kobierowski, Alon Shnitzer and Eddie Chang represented the Buyer in this transaction. Joseph Dietz with Orion Investment Real Estate represented the seller.
To learn more Lazovick should be called at 602.714.1388, Bax is at 620.714.1406, Kobierowski at 602.714.1384, Shnitzer reached at 602.714.1283 and contact Chang at 602.714.1398. Dietz can be reached at 480.689.4107.