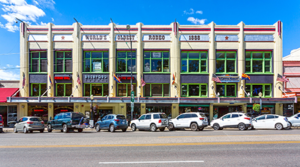 Cushman & Wakefield Negotiates Sale in Downtown Historic Courthouse Square
PHOENIX, Arizona  –
Cushman & Wakefield completed the sale of Bashford Courts Atrium Mall, located at 130 W. Gurley Street in Prescott, Ariz. Hannay Realty Advisors purchased the property from Bashford Courts, LLC for $4.95 million.
Chris Hollenbeck
of Cushman & Wakefield Phoenix represented the seller in the transaction.
Greg Mayer
of Cushman & Wakefield Phoenix represented the buyer. "We are excited to sell an iconic Prescott building like Bashford Courts to a very seasoned investor like Hannay Realty Advisors," says Hollenbeck. Bashford Courts Atrium Mall, a restaurant and specialty boutique shopping center located in Downtown Historic Courthouse Square of Prescott, is a 33,000-square-foot retail center. The property is located across from the historic Courthouse Square, which hosts numerous year-round events, and houses the famous Prescott Brewing Company. The center is 97% leased, with long-term agreement and most tenants have been with Bashford Courts for more than 10 years. "Adding a property like Bashford Courts to our growing portfolio gives us an opportunity to add value to a well-known building in Prescott.  We plan on starting updates to the building immediately and are already starting to talk to new potential tenants for some of the vacancies," said
Michael Meath
of Hannay Realty Advisors.