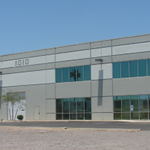 Phoenix – CBRE has completed a 48,735-square-foot lease at Estrella Business Park located at 1010 S. 65th Avenue in Phoenix, Ariz. Propak Logistics, Inc. has leased the space marking the companies first location in metropolitan Phoenix and bringing the property to 100 percent leased.
Pat Feeney, Dan Calihan and Rusty Kennedy with CBRE's Phoenix office, along with Bob Pielsticker of CBRE Tulsa, represented Fort Smith, Ark.-based Propak. The landlord, EJM Development Co. of Los Angeles, Calif. Propak, negotiated on its own behalf.
"This was a unique user requirement and the space at Estrella Business Park was a perfect match. The space in question is an end cap with an adjacent 3-acre side yard, which will allow Propak to meet the needs of their major clients in and around the metro area," said CBRE's Feeney.
"This transaction is another testament to the health of the Phoenix industrial market. Leasing activity, particularly in the 20,000 to 200,000-sq.-ft. range, has been strong all year," continued Feeney. "In fact, year-to-date these types of transactions total more than 1.4 million sq. ft. of absorption. This is important because the overall health of the Metropolitan Phoenix industrial market has historically been supported by midsized users/space and this size range shows no signs of slowing as we round out 2014 and head into 2015."
"We are very happy to have Propak as one of our valued tenants in the Phoenix market and look forward to a long and mutually beneficial relationship with the company," said Fred Stiles, Regional Director with EJM Development Co. EJM, one of the largest industrial property owners in metropolitan Phoenix, currently owns 5.5 million square feet of industrial buildings across the Valley.
Propak, a provider of leading-edge logistics, transportation and supply chain management solutions, will use the new location to service Walmart, one of the company's major clients. Propak is a major pallet supplier for the retail giant and the new space at Estrella Business Park is conveniently located between two of the company's major distribution centers in Casa Grande and Buckeye. Propak's lease brings Estrella Business Park to full occupancy.
Submit all sales and leases to REDailyNews@outlook.com.