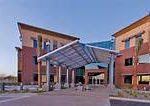 Chandler - W P Carey Inc. of New York City, N.Y. (NYSE:WPC) has expanded its real estate holdings in Phoenix metro by spending $43.1 million ($236 PSF) to acquire a 183,000-square-foot office project at 2700 W. Frye Road in Chandler.
The seller was HR Frye LLC, a company formed by Regent Properties, LLC of Los Angeles , CA (Jeffrey Dinkin, Douglas Brown, Eric Fleiss, partners). The three-story project, called 2700 Corporate Centre, is fully leased to QBE Insurance Group. The acquisition of the Frye Road building was completed by an exchange facilitator working on behalf of W.P. Carey.
QBE First, the Atlanta-based unit of QBE Insurance Limited, relocated to the 183,000-square-foot building at 2700 W. Frye Road from Los Angeles-based Regent Properties about one year ago. Regent Properties completed construction of the shell building, put the project out to lease and completed tenant improvements before marketing the property for sale. QBE moved into the building about a year ago. Bill Blake and Colton Trauter of Lee & Associates in Phoenix handled the the transaction to occupy the project in an 11-year-lease valued at about $40 million.
Maricopa County records show the Chandler office was acquired by PPOS 13 LLC, a company managed by Asset Preservation Inc. in Roseville, CA. The cash deal was negotiated through Tivin Moffitt, Neil Glassmoyer and Peter Bauman of Colliers International in Phoenix.
Sources say W.P. Carey had a 1031 exchange requirement from the sale of another property and moved quickly to complete the purchase of the Chandler office project. W.P. Carey, a publicly-traded global real estate investment firm with more than $15 billion of assets, has made multiple real estate investments in the Valley.
Kathleen Barthmaier of W.P. Carey can be reached at (212) 492-1125. Fleiss at Regent Properties is at (310) 806-9800. The Colliers brokers are at (602) 222-5000. Blake and Trauter are at (602) 956-7777.
For complete story see BREW.