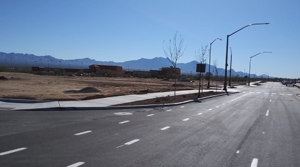 SAHUARITA, ARIZONA – Rancho Sahuarita Boulevard South opened Thursday afternoon making way for an additional 70 acres of commercial development in Sahuarita Town Center.
The new street, sewers and other utilities running south of Sahuarita Road were built by Rancho Sahuarita master plan developer at a cost of $3 million.
It connects the community to the newest K-8 school, Wrightson Ridge, in the Sahuarita Unified School District (SUSD) holding its grand opening next week. The 80,000-square-foot school was made possible by a $20 million bond approved by the voters in 2016. Children in kindergarten through fifth grade will begin attending the new school in January 2019, while sixth, seventh and eighth graders will remain in their current school before starting at the new school in the fall of 2019.
The school was designed by Swaim & Associates Architects and will accommodate 530 elementary students and 250 middle school students there, one of seven schools in the Rancho Sahuarita MPC.
The new road also connects Rancho Sahuarita to the new 18-bed Northwest Hospital location that will break ground in February, bringing with it approximately 200 new jobs to Sahuarita.
The 70,000-square-foot, two-story medical facility will be on a 5.6-acre site and include an ER and operating rooms, medical offices with planned services to include primary care, cardiology, orthopedics and general surgery. The hospital is on a ground lease surrounded by commercial pads available on 20 acres.
Northwest Healthcare operates Northwest Medical Center in Tucson and Oro Valley Hospital. The Sahuarita expansion is part of a $150 million expansion by Northwest that includes renovations to its Tucson and Oro Valley hospitals as well.
Rancho Sahuarita construction started in 2000 and currently has 5,700 homes and a total capacity of 11,000 when fully built out. It is located on 3,000 acres 20 minutes south of Tucson, with 1,000 acres remaining for development. There are 17 miles of paved trails, a 10-acre lake and three homebuilders currently, Insight, Lennar and Richmond American. The Sahuarita Town Center is on 350-acres and anchored currently by a Fry's. The community is known for its healthy lifestyle with over 200 community events per year.
For more information on Sahuarita Town Center, Jeremy Sharpe of Sharpe & Associates the developer, should be reached 520.299.8766.
Login for additional information.