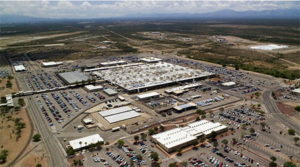 TUCSON, ARIZONA -- After rumors circulated for several days from Raytheon employee leaks, Raytheon, the largest employer of Southern Arizona, has confirmed its choice of Tucson for its headquarters of a new missiles and defense unit headquarters.
Tucson will become the new headquarters for a combined business unit made up of Tucson-based Raytheon Missile Systems and a Massachusetts-based Raytheon business when parent Raytheon Co. and United Technologies Corp. finalize their merger, expected in March.
A Raytheon Missile Systems spokesman confirmed Friday that Tucson will become headquarters for the new Raytheon Missiles & Defense business, which will combine Missile Systems and Raytheon Integrated Defense, now headquartered in Tewksbury, Massachusetts.
"We shared with our employees that upon merger close, our consolidated businesses will be named Raytheon Missiles & Defense and Raytheon Intelligence & Space," Raytheon spokesman John Patterson said.
"They'll be headquartered in Tucson, Arizona and Arlington, Virginia respectively. We look forward to sharing more information once the merger closes — anticipated early in the second quarter of this year."
Raytheon Intelligence & Space will be formed from Raytheon's Space and Airborne Systems and Intelligence, Information and Services units, and UTC Mission Systems and Raytheon's Forcepoint cybersecurity unit. Together with two of UTC's current businesses — engine maker Pratt & Whitney and Collins Aerospace — they will form the four main business units of the merged company.
The headquarters' location of the other new business units are expected to be announced after the merger is finalized.
The so-called "merger of equals" will create an aerospace and defense behemoth with annual revenues of $74 billion, second only to Boeing in the industry.
Raytheon and United Technologies shareholders have approved the merger of the two companies, which is also contingent on United Technologies' successful spinoff of its Carrier heating, ventilation and air-conditioning business and its Otis Elevator subsidiary.
The deal is also subject to federal anti-trust approval, which is expected after the Defense Department said it had few concerns about the merger.
Raytheon is the Tucson region's largest employer with about 13,000 local workers. The company has been working to expand its campus at Tucson International Airport amid a plan to add more than 2,000 jobs. Raytheon also has significant operations at the University of Arizona Tech Park.
In 2018, Raytheon executives along with federal, state and local leaders formally dedicated six new buildings at the company's Tucson plant site. The company has since completed infrastructure expansion and hired more than 2,000 new workers. Raytheon plans additional hiring, as well as investments and improvements in manufacturing, engineering technology and facilities infrastructure in order to meet growing customer demand.
"Raytheon is one of our state's most valuable assets," said Arizona Gov. Doug Ducey. "This high-tech powerhouse is a major jobs creator, and its products help to defend freedom around the globe. Arizona will continue to foster a pro-growth tax and regulatory environment that allows Raytheon to thrive in our state for years to come."
The company makes many of the nation's front-line defense systems, including the Tomahawk cruise missile and the Standard Missile series of ship-defense and ballistic missile interceptors, and more recently has been working on hypersonic missiles and laser weapons to defeat drones and other threats.
Raytheon Missile Systems' parent company is finalizing a merger with United Technologies Corp announced last year.
The new consolidated business will be named Raytheon Missiles & Defense and Raytheon Intelligence & Space.  It is the Missiles & Defense Unite which will be rooted in Tucson. Intelligence & Space will be based in Arlington, Virginia.