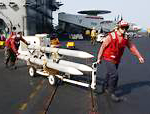 TUCSON, AZ — Raytheon Company (NYSE: RTN) is being awarded a fixed-price contract $491,478,068 for the Advanced Medium Range Air to Air Missile. The contract is for the production of the AMRAAM® missile and other AMRAAM system items, including the captive air training missile, common munitions bit/reprogramming equipment and non-developmental item airborne instrumentation unit.
AMRAAM is a combat-proven missile that demonstrates operational flexibility in both air-to-air and surface-launch scenarios and provides today's military forces with enhanced operational capability, cost effectiveness and future growth options. Procured by 36 countries, the combat-proven AMRAAM® has been integrated on the F-15, F-16, F/A-18, F-22, Typhoon, Gripen, Tornado, Harrier, F-4 and the Joint Strike Fighter aircraft. It is also the baseline missile for the NATO-approved National Advanced Surface-to-Air Missile System.
The contract includes foreign military sales to Korea, Oman, Singapore and Thailand.
Work will be performed in Raytheon Tucson and is expected to be completed by February 2017.