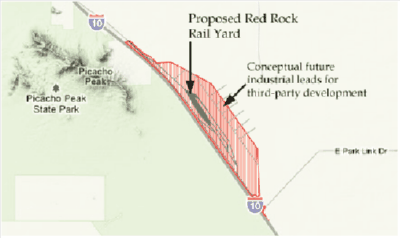 The Casa Grande Dispatch is reporting after years of waiting, the Union Pacific Railroad may finally be able to see some light at the end of the tunnel for a planned Red Rock Rail Yard, a switching yard in south-central Pinal County.
The project was first proposed by Union Pacific in 2006 and would entail the purchase of 950 acres adjacent to the Union Pacific Railroad tracks near Red Rock. The switching yard would involve the separation and classification of boxcars that had been loaded on to trains at the port of Long Beach, with project backers saying the new projects would have the potential to create both new tax revenue and jobs in spades.
Negotiations regarding the sale of state trust land in Pinal County for the construction of a Union Pacific rail classification yard has progressed with the recent hiring of consultants.
The Arizona State Land Department has hired RBF, a national planning, design and construction firm, to examine the technical issues surrounding the Red Rock project Union Pacific also hired an outside firm to assist with the analysis.
"We are happy that this phase of the proposed project is moving forward," Vanessa Hickman, land department commissioner, said in a statement.
"We are confident that the expertise of the parties involved will lead to a full understanding of the issues being studied."
Last February, the Pinal County Board of Supervisors asked Gov. Jan Brewer to have the State Land Department auction the land — 950 acres of state trust land just north of Red Rock near Interstate 10 — within the next six months.
The board has pushed for the land sale because it believes the yard will bring jobs to Pinal County.
Supervisor Pete Rios of Dudleyville told the Maricopa Monitor via email last March the project would be a much-needed economic boost for the county. "Ancillary and supporting companies in the area would create thousands of additional full-time jobs, millions of dollars in wages and taxes," he said.
For complete story, click here.