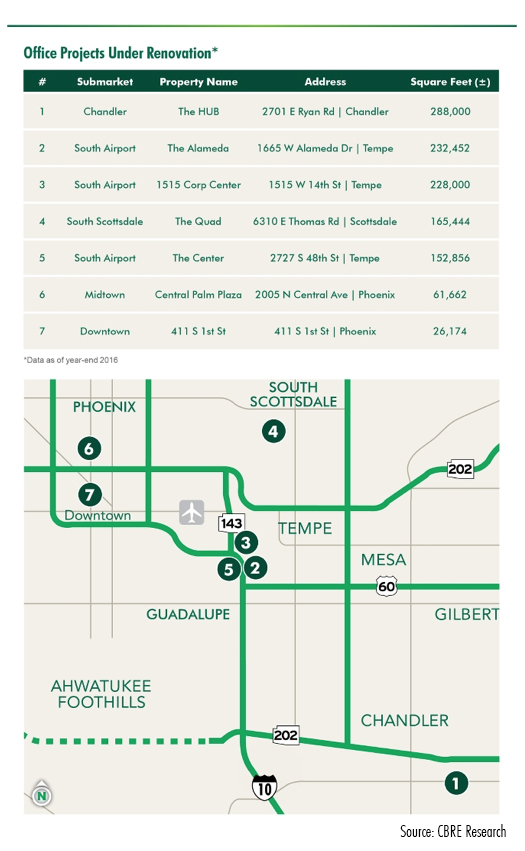 Phoenix, Arizona  – CBRE Research has ID'd a trend that's sure to be good news for office users trying to wiggle their way into the Valley's prime submarkets.
According the latest Phoenix MarketFlash, more than one million sq. ft. of space – the majority of which is former back-office/flex space – is being renovated. The research brief also points out that a majority of these projects are concentrated in the Tempe and South Airport areas where tenant demand is high but available land for development is scarce.
"Many developers have purchased outdated buildings with the intent to renovate and convert them to dedicated office buildings," said CBRE's Corey Hawley. "The Valley has some of the highest office activity we've seen in years and currently there is not enough useable space in the market to meet demand."
Hawley, a first vice president specializing in office properties, says developers in the market for repositioning opportunities are looking for projects in areas with high barriers to entry, with high parking ratios and immediate access to the Valley's best amenities.
One such property is 411 S. 1st Street in downtown Phoenix's Warehouse District. Currently undergoing extensive renovations, the project was formerly a packaging products warehouse. Once renovated, the two-story building will offer users a fully modernized, creative office environment in the highest density employment area in the entire state. The property will allow future tenants access to more than 100 restaurants within a two-mile radius and will put them close to some of the Valley's most popular entertainment venues – in other words the type of environment future tenants' employees will love.
Office construction has picked up in recent quarters, which may be leaving some to wonder how the market will deal with an influx of new and renovated product. As comparison to the one million sq. ft. of under-renovation space, the Valley's office market construction pipeline currently consists of 1.5 million sq. ft.
"Even with the addition of this renovated supply, strong demand for well-located, high-quality space will continue to put downward pressure on vacancy and support rent growth," said Hawley. "The reality is user demand is high right now, so renovation projects will help boost office supply in the near term."