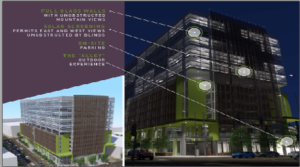 TUCSON, ARIZONA — The Rio Nuevo Board voted unanimously to continue moving to finalize the agreements for the $100 million, 20-story tower known as 75 E. Broadway.
"This is the first major office/mixed-use project we've seen in Downtown Tucson in decades," said Board Chairman Fletcher McCusker. Current plans include retail, office space, residential and parking at the corner of East Broadway Boulevard and The $38 million conversion plan for 1 South Church moved forward also with a unanimous vote of the Board reaffirming their commitment to the project.
Opwest Partners, an investment and development firm with expertise in mixed-use, hospitality, resort, residential, entertainment, office, retail and recreational properties, is on schedule to revitalize the 23-story tower and convert eight lower floors into a five-star luxury hotel.
"These two projects are huge for Downtown, especially now, and demonstrate the continued commitment to our revitalized urban core," said McCusker as he closed the meeting.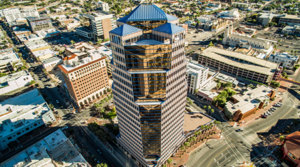 Opwest Partners' project would convert the eight lower floors into about 150 rooms, 1,500 square feet of meeting space, a 4,000-square-foot restaurant and a fitness center on the eight lower floors. Floors 11 through 23 would remain office space.
Tyler Kent with Opwest said the development is expected to bring in $1.6 million in annual tax revenue in years 4 through 9 and reach $1.9 million in year 10. After year 10, that revenue is projected to reach $2 million per year.
Developers were asking the Rio Nuevo Board for eight years of insulation from property taxes using the vehicle of a Government Property Lease Excise Tax (
GPLET)
lease and for site-specific sales tax revenue sharing of up to $1 million.