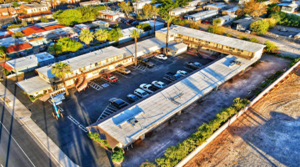 TUCSON, ARIZONA, March 14, 2023 – The Riviera Motor Lodge at 515 W Miracle Mile Road in Tucson sold for $1.195 million ($54,318 per room) to KP Hospitality (Moran Ahir, member) of Phoenix.
Located southwest of Oracle and Miracle Mile Roads., the 22-room motor lodge was built in 1953 and the buyer plans to renovate and modernize the property as an extended-stay hotel.  The rooms feature refrigerators and microwaves, complimentary wireless internet access, and cable TV programming.
The Historic Miracle Mile corridor was listed as a historic district in the National Register of Historic Places on December 11, 2017.
Throughout the mid-twentieth century, this commercial strip, known as "Miracle Mile," functioned as the northern vehicular gateway of Tucson for travelers traversing the nation. The bulk of the contributing resources, facing or within one block of the historic highway alignment, relate to mid-century auto culture and were constructed during the district's period of significance; 1920 through 1963.
The Miracle Mile Historic District is composed of four groupings of historic resources that feature some of the best and most iconic examples of roadside architecture in Tucson and Arizona including the Ghost Ranch Lodge (designed by Josias Joesler 1941), Tucson Inn (designed by Anne Rysdale, 1952), the Flamingo Hotel (designed by Anne Rysdale, 1954), and Duke's Drive-In former home to the recently closed Beau Brummel Club (designed by Arthur T. Brown, 1947). The designation makes available reinvestment incentives including federal Historic Tax Credits for the rehabilitation of contributing historic buildings.
The convenient, central location is now a 5-minute drive to the University of Arizona, a 6-minute drive to Tucson Convention Center, a 7-minute drive to Tucson Mall, an 11-minute drive to Reid Park Zoo, and a 15-minute drive to Davis-Monthan Air Force Base.
Both the seller, ANMOL AKSH, LLC (Ashvin Patel, manager), and the buyer were represented by Jigar "Jay" Desai of Tucson with NewGen Advisory of Phoenix.
For more information, Desai can be contacted at 520.664.4091.
To learn more, see RED Comp #10501.