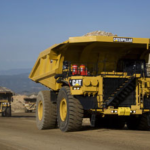 TORONTO, Sept. 16, 2013 - Augusta Resource Corporation (TSX/NYSE MKT: AZC) has been informed that the US Forest Service (USFS) has announced a completion date of November 2013 for the Final Environmental Impact Statement (FEIS) for its Rosemont Copper project.
Rosemont's Record of Decision (ROD) will be released following a new USFS rules process that will come into effect on September 27, 2013. The new process stipulates a resolution period as opposed to an appeals period for the ROD. Under the former process, after a ROD is signed, appeals may be filed and final resolution of appeals would take up to 105 days. Under the new process for Rosemont, when the FEIS is released, a draft ROD will be issued for public comment. The new process is statutorily limited to a 90-120 day period, which is comprised of 45 days during which parties may provide objections to the draft ROD, followed by a 45-day resolution period for the USFS, with the option of one-30 day extension, after which the final ROD will be issued with no subsequent appeal period.
It should be noted that only parties that have provided substantive comments to the record during prior public comment periods will be given standing to comment, and only those comments that have met a certain level of significance will be moved into the resolution period. All comments filed by the public will be reviewed and responded to according to the USFS.
The Army Corps of Engineers' Clean Water Act 404 Permit is expected to be released subsequent to the issuance of the FEIS, in the fourth quarter of 2013.
"We are pleased to see the USFS move the FEIS and ROD documents towards completion and provide a certain process with dates for finalization," said Gil Clausen, Augusta's President and CEO. "The new regulations provide a more defensible process and remove the administrative appeal process, while following a similar time frame. This allows us to commence construction at Rosemont according to our planned project schedule when project debt financing is in place and detailed construction engineering is at least 75% complete."