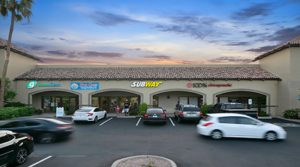 Phoenix, Arizona– CBRE has brokered the sale of the 54,065-square-foot, grocery-anchored Ahwatukee Mercado shopping center in Phoenix's Ahwatukee Foothills Village district. Los Angeles-based Westwood Financial, LLC acquired the property from TPP 202 Ahwatukee, LLC c/o TriGate Capital, LLC of Dallas for $9 million.
Jesse Goldsmith, Steve Julius and Chase Dorsett of CBRE in Phoenix and Philip Voorhees, John Eddy and Jimmy Slusher of CBRE in Newport Beach, California represented the buyer and the seller in the transaction. The transaction marks Westwood Financial's first purchase in Phoenix since Mark Bratt was appointed CEO.
Ahwatukee Mercado is shadow-anchored by Safeway and is 64 percent leased to nationally-recognized and local food and beverage, lifestyle and service-based retailers, including H&R Block, Cactus Jack's Bar & Grill, Great Clips and Subway.
"Ahwatukee Mercado comprises a diverse and dynamic mix of internet-resistant retailers that generate consistent daily-trip traffic to the center," said CBRE's Goldsmith. "This, coupled with strong area demographics and the tremendous value that can be created through the lease up of the vacant space, drove significant interest to the property as our team received multiple offers in a short time frame."
Located at the southwest corner of Elliot Road and S. 48th Street at 4623 & 4747 E. Elliot Road, the property benefits from strong household incomes in the immediate submarket, three points of access and proximity to residential and commercial density. There are more than 254,000 people in a five-mile radius with an average household income nearing $89,000.
Steady population growth supports consumer spending, which will attract retailers and boost demand for space through the end of the year, according to CBRE Research.