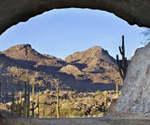 This article has been archived, please login for access or subscribe now by going to the subscribe tab at the top of page.
Saguaro Ranch has been a struggling luxury community in northwest Tucson for a number of years. The original developer filed Chapter 11 in February 2009 and the property was returned to the largest secured creditor, Kennedy Funding of Englewood Cliffs, NJ, holding claim to $23.9 million in 2011. Kennedy's intent was to find a buyer for the assets for resale.
Before being caught in the maelstrom that hit Arizona especially hard, Saguaro Ranch luxury community suffered setbacks in its plan to develop 180 single family homes tucked away on 1,035-acres in the Tortolita Mountains. Before filing bankruptcy some of the vacant lots there were selling for $1 million each.
Over the past 30 days, Kennedy Funding has sold over $50 million in assets. Northlight Financial LLC ("Northlight"), is an established corporate lender and asset-based investor of private equity debt and real estate assets. Northlight acquired 115-lots at Saguaro Ranch for $8.08 million, falling on the heels of their acquisition of a majority stake in Seven Canyons, a Sedona, Arizona 18-hole golf resort designed by Tom Weiskopf; both were distressed properties.
Northlight currently manages over $500 million in corporate loans, real estate loans and REO properties. Founded in November 2002, Northlight has been registered as an Investment Advisor with the US Securities Commission since 2006.
Head of Northlight's real estate investments, Ben Gerig, told us that their goal at Saguaro Ranch "is to start building homes as soon as possible". Gerig says, "In order to reach that goal we are moving carefully and speaking with land planners as to what makes the most sense for the community. Today's market interest may not be the same as it was when Saguaro Ranch was first planned, so we want to first finish the infrastructure there, while evaluating all options for the community."
Northlight plans to joint venture the project with a developer. According to Gerig the firm found there was a synergy with Saguaro Ranch and the rest of their investment portfolio that focuses primarily on high-end luxury communities and resorts.
Northlight has recently invested in a number of resort properties across the western United States, including two other in Arizona, Seven Canyons in Sedona and Quintero Golf and Country Club outside of Phoenix; Wyoming's Snake River Sporting Club near Jackson, WY; and The Residence Club at PGA West in La Quinta, CA.
"We see substantial value in Saguaro Ranch," said Gerig, "It's a beautiful property in a spectacular setting. The potential is enormous." The setting -- surrounded by the Tortolitas and natural desert beauty-- has consistently won praise for its visually dazzling uniqueness.
Northlight brings the required capital and experience needed to complete the infrastructure and move Saguaro Ranch forward.
Jeff Raymond of Strategic Real Estate Partners (SREP) in Scottsdale was with Land Advisors Organization when he handled the transaction for the investor. Will White with Land Advisors Organization of Tucson represented the seller.
Additional information on Northlight may be obtained by visiting www.adviserinfo.sec.gov . Raymond can be contacted at (480) 225-3999. White should be reached at (520) 514-7454.
Login for additional information.
[ismember]Sale Date was 7/25/2013. Exact Sale Price:$8,075,000 all cash. The buyer acquired approximately 768 acres in this transaction. Lots were platted from 4 acres to 40 acres for a reported total of 115 SFR lots by buyer. Of the 70 tax parcels some are roads, some have multiple addresses for homes. Block 2 alone is 201 acres unplatted. [/ismember]