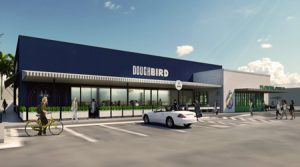 TUCSON, ARIZONA (June 1, 2023) -- Sam Fox, a Tucson restaurateur, now headquartered in Phoenix, operates 12 different brands in 14 states and the District of Columbia.
His newest restaurant opened May 31st at Campbell Plaza, a sit-down pizza-and-chicken restaurant called Doughbird at 2960 N Campbell Avenue in Tucson.
Doughbird is right next door to Flower Child, another of Fox's restaurants, which opened eight weeks ago on Campbell between Glenn Street and Blacklidge Drive.
The former Old Chicago Restaurant at Campbell Plaza was puchased to raze for construction of two new Fox Restaurant brands, Flower Child and Doughbird in October 2021, the sale was handled by Dave Hammack and Greg Furrier with Cushman & Wakefield | Picor.
Adding Flower Child and Doughbird to Tucson brings the number of Sam Fox restaurants here to seven.
It was a flat tire that set Sam Fox on the path toward becoming one of the country's most successful multi-concept developers and operators.
It wasn't even his flat tire. Fox was just a summer intern when his boss sent him to his home to change his wife's flat tire. It was the height of summer in the brutal Tucson heat.
"I got up," Fox told the Restaurant Business podcast "A Deeper Dive. "And I got in my car, drove to the real estate firm where I was working, and told my boss, 'I quit.' I'm not going to work for anybody but myself. Nine months later, I had my first restaurant open."
That first restaurant was Gilligan's Bar and Grill in Tucson, which he launched in 1992 after dropping out of college and using some of his tuition money to fund. That restaurant never turned a profit, though its sales steadily climbed, and Fox sold it three years later for $500,000.
"Three years running that business with no money was my college of being a restaurateur," Fox said. "And I use that foundation today of how I run my business. When you run a business with no money, you must know where every penny is daily."
It is hard to overstate how far Fox has come in the decades since.
Over the years, his Fox Restaurant Concepts has created some 20 brands, including Wildflower (the very first, which debuted in 1998), Culinary Dropout, Blanco, Zin Burger, North Italia and Flower Child. Those latter two restaurant brands received $88 million from The Cheesecake Factory in the three years leading up to 2019. That's when The Cheesecake Factory paid $308 million to acquire all of Fox Restaurant Concepts.
"It's going great," Fox said of the pairing. "It's better than I ever thought it was going to be. They've been great partners … We got to date before getting married, which I thought was healthy."
Fox remains heavily involved in the business and said he still feels like its owner.
The company's success during the pandemic has been driven by the entrepreneurial spirit of its leadership, he said, and the ability (thanks in large part to the Cheesecake Factory's deep pockets) to retain workers during the pandemic.
Fox continues to develop new restaurant concepts as he works to grow his existing chains and one-off businesses. He likes for new restaurants to develop unstructured, perhaps around a single dish, city, or building.
"It has to happen really organically," he said. It must be messy. It has to be a little bit disorganized."
That is much the same way Fox's restaurant empire has grown over the years.
"We never really had a plan," he said. "We were working so hard growing, and just in the minutiae of the day-to-day operations … Everyone wants to look forward and plan on what's next. But if we don't focus on today, there is no tomorrow."
The new Doughbird is open Sun - Thurs 11AM - 9PM and Fri - Sat 11AM - 10PM. Flower Child is open daily 11AM – 9PM. See you there this weekend!