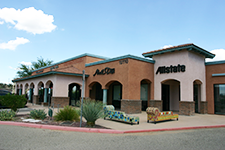 San Jose Plaza at 10110 N Oracle Road in Oro Valley sold to Giovanni & Agnieszka Rizza for $1.025 million ($158 PSF). The 6,490-square-foot strip center (built 2005) had but one 1,400-square-feet space vacant at time of sale, and buyer plans to occupy that space as a Gelato Shop.
Other tenants at the center include Cattleman's Café 2 and Bruce Unger's Allstate Insurance office.
The transaction was a short sale with Wells Fargo Bank and sold as a net investment / tenant occupied property.
Rob Tomlinson of Cushman & Wakefield | Picor in Tucson represented the seller, JESJO, Inc., (Jacqueline Starr, President) and Bob Herd of Herd Realty in Tucson represented the buyers.
To learn more Tomlinson can be reached at (520) 546-2757 and Herd is at (520) 481-2888.
Login for additional information.
[mepr-show rules="58038"]Sale date: 8/20/2014. Sale price: $1,025,000 with a down payment amount of $256,250 with new financing of balance. This was a short sale with Wells Fargo. Escrow time was 90-days and market time about 4-months. Asking lease rate at time of sale was $16/ SF NNN [/mepr-show]