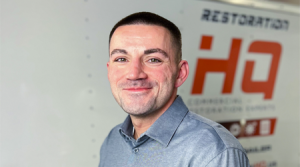 PHOENIX, ARIZ. (Oct. 10, 2023) – RestorationHQ, a trailblazer in the commercial restoration industry, is pleased to announce the appointment of Scott Rutkowski as its new president.
With a distinguished career spanning more than two decades in the restoration sector, Rutkowski brings a wealth of experience and innovative vision to the company. Rutkowski has built an impressive track record in the industry, most notably on the East Coast where he pioneered several groundbreaking restoration initiatives.
He previously served as branch manager for Water Mold Fire Restoration in Boston, Massachusetts, prior to joining RestorationHQ. Rutkowski was born and grew up in the Boston area.
"I'm honored to take up this new challenge at RestorationHQ," Rutkowski said. "This company has always stood for superior quality and unyielding dedication to customer satisfaction. I look forward to integrating my experiences and insights to further these commitments and lead the company to new heights."
Rutkowski's appointment comes at a pivotal moment for RestorationHQ as it continues to expand its footprint in Phoenix, Tucson, and beyond. His leadership style aligns with the company's mission of providing top-tier restoration services while prioritizing customer needs.
Rutkowski's progressive outlook directly matches RestorationHQ's mission and core values, reinforcing its joint dedication to top-tier commercial restoration services.
"We do not just restore buildings; we strive to rebuild trust in the vendor partner process, and peace of mind for our clients," Rutkowski said. "Innovation, quality, and customer satisfaction will remain our guiding principles as we continue to grow and evolve."