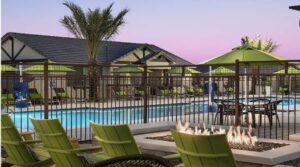 Empire Group introducing its build-for-rent concept to three new cities
Scottsdale, Ariz. – Empire Group of Companies is bringing its Village concept of build-for-rent communities to Texas and Colorado. The Scottsdale-based developer recently purchased three parcels of land outside of Arizona for a combined $36.5 million. The company closed on its first out-of-state land purchase for a build-for-rent community in Fort Worth, Texas. Empire Group has two more deals in the works – one in Hutto, Texas and the other in Colorado Springs, Colorado. The company is expected to begin construction on the three projects in Q1 of 2023.
"Empire Group successfully developed its Village brand of build-for-rent communities in Arizona, and we recognize there's demand for single-family rental homes in other growing cities," explains Geoffrey Jacobs, partner at Empire Group of Companies. "It's about providing options for people that may not be ready to buy and may be looking for the security, ease and amenities our gated rental home communities deliver."
Empire Group closed on 48-acres in Fort Worth for $16 million. The developer plans to take 30-acres to build Village at Golden Triangle, a gated community of 323 build-for-rent homes plus amenities and to sell the remaining 18-acres zoned for commercial office and retail use. The site is located off North Riverside Drive and Golden Triangle Boulevard. Brandon Crow and Warren Smith of Edge Realty Partners represented the Empire Group in the purchase of the 48-acre parcel.
In Hutto, Texas the developer secured 30.6-acres just a half hour north of Austin. Village at Hutto Station will be situated east of Texas State Highway 130 and north of County Road 138. Empire Group is approved to begin construction on the 276 build-for-rent community in early 2023. The $11 million transaction was handled by Josh Cameron and Hal Guggolz of Land Advisors Organization.
Empire Group is working closely with the City of Colorado Springs to finalize development plans for Village at Cottonwood Creek, situated on a 25.7-acre parcel the developer purchased for $9.5 million. Village at Cottonwood Creek is the company's first Colorado build-for-rent community, which will include 247 single-family homes. The located on the northeast corner of North Powers Boulevard and East Woodmen Road, in the northeast area of Colorado Springs. CBRE's Cameron Flint represented Empire Group in the land acquisition.
The three communities will each offer a mix one-, two- and three-bedroom designs that include private landscaped backyards with doggy door access, a smart home technology package and ample storage. Residents will enjoy luxury lifestyle amenities such as a resort-style pool and jacuzzi, barbeque and firepit areas, a fitness center, community clubhouse, walking paths and a dog park.
Empire Group has completed two build-for-rent projects in Phoenix totaling 400 single-family homes and is currently under construction on six projects with another 1400 homes and a total value of approximately $600 million. By end of 2022 Empire Group will start building another 597 homes with an additional estimated value of $250 million.
To learn more about Empire Group of Companies and its portfolio of projects, visit builtbyempire.com.