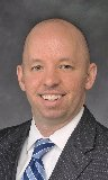 PHOENIX – John A. Dobrott, President – Industrial Division of Conor Commercial Real Estate, a member of The McShane Companies, is pleased to announce that Sean D. Cummings has been promoted to Vice President of the firm's Southwest regional office.  Cummings will be headquartered in the firm's office in Phoenix, Arizona, managing development activities within a wide variety of market sectors throughout Arizona and the southwest region.  He will provide strategic direction and management of Conor Commercial's land selection and acquisition, feasibility/underwriting, entitlements, holdings, speculative development, build-to-suit opportunities, financing, leasing and disposition activities.
Cummings joined the McShane organization in 2005 as Development Manager in the firm's corporate headquarters in Rosemont, Illinois.  He was promoted to Senior Development Manager and relocated to McShane's Phoenix office in 2006.
His recent development assignments within the Phoenix and southwest region include his participation on the development team for 4600 E. Washington, a six-story, 186,000 square foot, Class A office building; the two-building, four-story, 228,000 square foot East Gateway Centre office complex; the 1.1 million square foot multi-building McShane Westside Industrial Park; and a 566,875 square foot industrial speculative building in Reno, Nevada, that was leased in full to Amazon.com, among others.
Most recently, he has been instrumental in the firm's turnkey development of a 60,000 useable square foot Outpatient Clinic for the U.S. Department of Veterans Affairs in Gilbert, Arizona. Cummings also leads the marketing efforts for Phoenix Logistics Center, a multi-building, 150-acre development in Phoenix and is actively completing the due diligence for another large industrial park within the area.
"Throughout his career with the McShane organization, Cummings has consistently demonstrated the expertise and dedication necessary to provide skilled development services to our clients," remarked Dobrott.  "His knowledgeable and insightful execution in acquisitions, leasing, asset management, ground-up development and the disposition of assets in a variety of market segments have contributed to the successful positioning of the McShane organization and Conor Commercial Real Estate as a leading provider of real estate and development services within the region."
Cummings holds a Master of Business Administration from DePaul University and a Bachelor of Arts – Finance from Michigan State University.  He is a member of the Greater Phoenix Economic Council, the Arizona Chapter of NAIOP (Commercial Real Estate Development Association), the Urban Land Institute and the U.S. Green Building Council.  Cummings can be reached at:
Cummings should be contacted at (602) 515.0884  or at scummings@conorcommercial.com