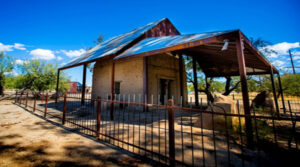 PIMA COUNTY, ARIZONA, March 3, 2023 - A Senior Resource Fair is being hosted by District 1 Supervisor Rex Scott and his team on March 11 from 9 a.m. to 1 p.m. at Steam Pump Ranch, 10901 N. Oracle Road.  About 30 businesses, government agencies and nonprofits are expected at this senior-centric event offering important resources on aging.
Along with the fair, guests can explore the historic Steam Pump Ranch and visit the Heirloom Farmers Market offering goods from local farms, ranches and small food purveyors.  The 16-acre ranch is listed on the National Register of Historic Places.
Ranch buildings have undergone significant rehabilitation for public access. All dogs must be on a leash due to the historic nature of the grounds.
Questions on the event may be directed to District 1 at district1@pima.gov or by calling 520-724-2738.