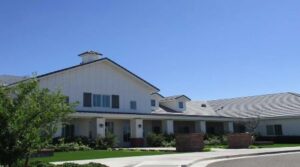 JLL Capital Markets arranged financing for the newly constructed Countryside Living in Queen Creek, Arizona
PHOENIX, ARIZONA – JLL Capital Markets announced today that it has arranged a $10.572 million refinancing for Countryside Living, a 40-unit, 42-bed, newly built assisted living and memory care community in Queen Creek, Arizona.
JLL worked on behalf of the borrower, a venture between American Care Concepts and private investors, to originate the 10-year, fixed-rate Fannie Mae loan. The loan will be serviced by JLL Real Estate Capital, LLC, a Fannie Mae DUS lender. 
Completed in 2020, Countryside Living features a wide variety of on-site amenities, including an outdoor courtyard, comfortable living areas, indoor and outdoor fireplaces, dining areas, walking paths, aquariums, salons, an open kitchen and pristine outdoor views. Additionally, the community offers resident-focused activity schedules, enriching therapies, cognition and physical fitness programs, group outings and equine therapy facilities. The property's one- and two-bedroom units range from 344 to 515 square feet.
Situated on 2.48 acres at 22773 E Ocotillo Rd. in a growing suburb southeast of Phoenix, Countryside Living offers convenient access to the cities' amenities as well as a rural atmosphere. Additionally, the property is just a few miles from Banner Ironwood Medical Center, The Links Queen Creek Golf Course and Ocotillo Trails Marketplace.
The 75+ population within a five-mile radius of the community is expected to increase 4.34% per year through 2026, outpacing the national 75+ growth rate by 20 bps. In addition, median household incomes within the same radius are significantly greater than the national levels for each cohort, and the median housing value within a one-mile radius is over 38% greater than the national median. Country Living benefits from these demographics as the only senior living facility in Queen Creek with their nearest competitor roughly 10 miles away.
The JLL Capital Markets team representing the borrower was led by Senior Managing Director Brad Miner, Director Alanna Ellis, Vice President Martin Mbeteni and Analyst Zach Brantley.
Agency/GSE lending and loan servicing are performed by JLL Real Estate Capital, LLC, a wholly owned indirect subsidiary of Jones Lang LaSalle Incorporated. Loans made or arranged in California are pursuant to a California Financing Law license.
JLL Capital Markets is a full-service global provider of capital solutions for real estate investors and occupiers. The firm's in-depth local market and global investor knowledge delivers the best-in-class solutions for clients — whether investment sales and advisory, debt advisory, equity advisory or a recapitalization. The firm has more than 3,000 Capital Markets specialists worldwide with offices in nearly 50 countries.