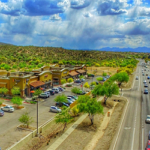 The Shops at San Dorado sold to California-investor, Enos Ranchos LLC of Santa Ynez, CA (Samuel Rhea, member) for $11.28 million ($550. PSF) for this Class A property, location, tenants and construction quality.
Build in 2013 and expanded in 2015, San Dorado is at First and Oracle Road, the highest traffic intersection in Oro Valley, with major retailers such as Target, Home Depot, Fry' s Grocery, Ross and PetSmart, in the primary core of residential, commercial and employment district for Oro Valley. Addresses of building sold was 10580, 10592 & 10604 N Oracle Road in Oro Valley.
The 20,558-square-feet of shop space on 2.3 acres was 100% leased and 94% occupied at time of sale by nationally recognized tenants: Chipotle, Verizon Wireless, Panera Bread, Mattress Firm, Jersey Mike' s Subs and MOD Pizza and 72% of these leased by publicly traded tenants such as Verizon Wireless (NYSE: VZ), Chipotle (NYSE: CMG), Panera Bread (NASDAQ: PNRA) and Mattress Firm (NASDAQ: MFRM).
Greg Laing, Dan Gardiner, Teal Bloom and Tyler Chester with Phoenix Commercial Advisors represented the seller, KDC San Dorado Retail LLC, a Mark Taylor and Kitchell Corporation joint venture.
For additional information, Laing can be reached at 602.734.7207, Gardiner is at 602.734.7204, Bloom can be contacted at 602.288.3476 and Chester should be called at 602.288.3480.
To learn more, see RED Comp #4098.