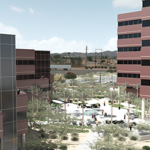 Class A Office Complex to Provide Modern Work Environment
PHOENIX, Ariz. – The Muller Company, in a joint venture with investment firm Harbert Management Corporation, announced that the $20 million redevelopment of Sky Harbor Towers office complex is nearing completion of its first phase. The 13.6-acre, two-building office campus located at the intersection of Interstate 10 and State Route 143 is anticipated for move-in this spring.
The redevelopment of 4605 and 4615 E. Elwood St. will deliver 215,000-square-feet of state-of-the-art, amenity-rich office space to the Sky Harbor submarket of Greater Phoenix. The property features renovated lobbies, ample parking and a new pedestrian-friendly courtyard with shaded outdoor meeting areas situated around a central fountain. The second phase will modernize the fitness center, and the on-site café for casual inside/outside dining.
During 2015, a portion of the original three-building Sky Harbor Towers property was acquired by the Arizona Department of Transportation (ADOT) for its freeway widening project. The Muller Company positioned the campus for future success by demolishing the smallest of the property's office buildings and expanding parking capacity to an abundant 6/1,000-square-foot ratio.
"Our goal with the remaining four- and seven-story buildings was to create an engaging campus environment that offers the appointments of a Class A mid-rise office complex and caters to tenants in the new economy," says Stephen J. Muller, principal with The Muller Company. "This project is surrounded by low-rise 'call center' style properties. Sky Harbor Towers will stand out in the area landscape as offering a more appealing workstyle environment with logically-sized work areas, plentiful natural light and an active courtyard with outdoor work areas for an employee-friendly campus feel."
Sky Harbor Towers' mid-rise buildings provide expansive window lines and balconies. The buildings' floors offer scalable flexibility that can accommodate any size of operation. "The redevelopment project has been meticulously designed, inside and out, to cater to 21st-century companies with a young, dynamic workforce," adds Muller.
The Muller Company selected Colliers International in Greater Phoenix to market Sky Harbor Towers. Colliers Executive Vice President Charles Miscio and Vice President Ryan Timpani are the buildings' leasing agents.
"Sky Harbor Towers occupies a coveted location at the critical intersection of Interstate 10 and State Route 143, adjacent to Sky Harbor International Airport," says Miscio. "More than 300,000 vehicles pass by this property each day, which offers prospective tenants impressive visibility with many signage opportunities. The campus is located in the exact heart of the city's freeway system to attract labor from throughout Greater Phoenix."
The Muller Company has acquired and operated over 30 million-square-feet of office, industrial and retail space in Arizona and California since its inception in 1979. This marks the second joint venture between The Muller Company and Harbert Management Corporation. The two companies also own the Diablo Technology Park in Tempe, Ariz.
For more information about Sky Harbor Office Towers, see www.skyharbortowers.com.