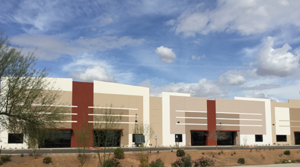 JLL pre-leasing underscores steady, continued demand from mid-size users
PHOENIX, Arizona – The Phoenix office of JLL has completed two lease agreements with two national credit tenants, bringing Phase I of Skyway Commons in Surprise, Arizona to 25 percent pre-leased just as the building is delivered to market. The activity also pushes plans for Phase II into active pre-construction.
The Phase I lease deals – by Pennsylvania-based Hajoca plumbing supply company and Arizona-based RideNow Powersports – were initiated months before project completion, confirming a continued pent-up demand for mid-size industrial space in Phoenix's northwest submarket.
JLL Vice President Riley Gilbert, along with Managing Director Anthony Lydon and Associate John Lydon, represented the building owner, Silagi Development & Management, in the transactions.
"Phoenix's far West submarkets are known for their near-insatiable demand for big-box industrial inventory, but there is an equally active mid-size market requiring modern, Class A industrial product that has a very narrow set of options to accommodate their requirements," said Gilbert. "Silagi recognized this gap and made a bet on the market that is paying off."
Hajoca, the nation's largest privately held wholesale distributor of plumbing, heating and industrial supplies, moves into 10,126-square-feet at Skyway Commons Phase I this month. It will use its new space for a wholesale plumbing supply house.
RideNow Powersports will occupy 15,611-square-feet at Skyway Commons Phase I beginning in April. This will provide needed overflow space for the company, which was born from a small Honda dealership in Chandler, Arizona and has since grown into the nation's largest powersports dealer, with more than 30 locations across the U.S.
Built on a purely speculative basis, Skyway Commons Phase I totals 110,221-square-feet of Class A industrial space at 11470 and 11560 N. Dysart Rd., at the southwest corner of Dysart and Cactus roads. Building features include a secured/fenced truck court, grade and dock-level loading, ESFR fire sprinklers, LED lighting and R-38 roof insulation.
The project falls under a Planned Unit Development (PUD) zoning, which provides for greater flexibility for a wide range of tenants with commercial business park or industrial-related uses. 

With its two pre-leases, Skyway Commons Phase I is now 25 percent leased, leaving 84,484-square-feet of space available – offering up to 43,647-square-feet of contiguous space and divisibility down to 4,689-square-feet.
Phase II of Skyway Commons will have the capacity to accommodate users up to 63,500-square-feet. LGE is the general contractor for both phases.