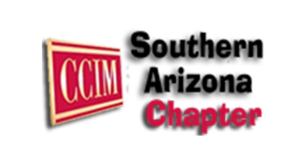 Plus, the September CCIM Ward Class: Introduction to Commercial Real Estate
Tucson, AZ (August 18, 2023) - The Southern Arizona CCIM Chapter is delighted to announce a special event featuring Daniela Gallagher, Vice President of Economic Development at Sun Corridor Inc. This event will offer a unique opportunity to gain valuable insights into the organization's mission, emerging market trends, and crucial site selection requirements.
As Vice President of Economic Development, Daniela Gallagher spearheads an array of initiatives to foster economic growth and prosperity in Southern Arizona. With her extensive expertise in location advisory services and her deep understanding of the region's economic landscape, Gallagher plays a pivotal role in attracting companies and
site selectors to establish or expand their operations in the area.
Sun Corridor Inc.'s primary objective is to create a dynamic and inviting environment that facilitates the expansion and success of businesses seeking a foothold in Southern Arizona. The organization's strategic efforts are directed toward fostering a landscape that promotes growth and collaboration among local enterprises, thereby propelling the
region's economic development forward.
The upcoming event promises to be an insightful and enlightening session. Following Gallagher's presentation, a distinguished panel comprising Mike Czechowski, City of Tucson Economic Development and Annexation, and Heath Vescovi-Chiordi, Director of Economic Development - Pima County, will join for a thought-provoking Q&A session. This segment allows attendees to engage directly with leading experts in the field and gain deeper insights into the region's prospects.
This event is an excellent opportunity for local businesses, entrepreneurs, and professionals interested in exploring or expanding their presence in Southern Arizona to connect with industry leaders, learn about the latest trends, and gain practical knowledge to fuel their growth strategies.
The Southern Arizona CCIM Chapter welcomes all interested parties to attend this enlightening event. The event will occur on September 12th, 2023, from 11:30-1:00 pm. For more information and to register, please visit southernazccimchapter.com.
Following the lunch meeting, the Southern Arizona Chapter is delighted to provide an exclusive educational opportunity for real estate professionals and enthusiasts in
Tucson; the CCIM Ward Class "Introduction to Commercial Real Estate."
This highly anticipated class is designed to provide participants with a comprehensive introduction to the fundamental principles of commercial real estate. Attendees will gain a solid understanding of critical concepts such as market analysis, leasing fundamentals, investor behavior, and asset performance.
This course offers an exclusive opportunity to delve into the nuances of commercial real estate, equipping individuals with valuable knowledge and insights to thrive in this
dynamic industry. You'll learn the differences between commercial and residential real estate, types of commercial real estate investment markets and sectors, common real
estate investment analysis tools, standard lease clauses, and the skills needed for a successful commercial real estate career.
Led by the esteemed Nick Miner, CCIM, this course promises a deep exploration of the commercial real estate landscape. As an expert in the field, Nick Miner brings knowledge and practical experience to the classroom, enriching the learning experience for all participants.
Event Details:
Course: Introduction to Commercial Real Estate CCIM Ward Class
Date: September 12th, 2023
Time: 1:30 pm-4:30 pm - Immediately following the September lunch meeting
Location: DoubleTree Reid Park, 445 S Alvernon Way
CE (Continuing Education) approved. Category: General Chapter Members $75, Non-Members $125
The Robert L. Ward Center for Real Estate Studies equips CCIM Institute members and non-members with the knowledge and resources needed to excel in the commercial real estate industry. To reserve your seat for the Introduction to Commercial Real Estate CCIM Ward Class and learn more about Southern Arizona CCIM Chapter's upcoming events, please visit southernazccimchapter.com.