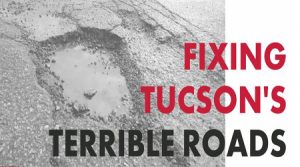 Followed by Renewal Class: ESG and Its Impact on Commercial Property Owners and Licensees.
Tucson, Arizona (July 26, 2023) - The Southern Arizona CCIM Chapter is pleased to announce its upcoming August Lunch Meeting, titled "Fixing Tucson's Terrible Roads." This informative and essential event will occur on August 8th, starting at 11:30 AM, at the DoubleTree by Hilton, Reid Park, Tucson.
The Southern Arizona CCIM Chapter has curated a panel of distinguished experts in the transportation sector to address the pressing issues faced by the city of Tucson and Pima County concerning their road network. Attendees will have the unique opportunity to hear from esteemed speakers, including:
Rick Ellis - Director of Transport Services, Regional Transport Agency (RTA)
James DeGrood - Executive Management Advisor, City of Tucson
Kathryn Skinner - Director, Pima County Department of Transportation
The panelists will delve into a variety of crucial topics, fostering an engaging and informative discussion:
Allocation of approximately $100 million per year for transportation improvements
Examination of the reasons behind the poor condition of Tucson's roads
Identification of required funding to address road repairs in Tucson and Pima County
Exploration of potential extensions of the light rail system and their projected timelines
Strategies for enhancing bus services to improve public transportation
The impact of bike lanes on reducing car trips and promoting sustainable mobility
The feasibility of implementing a gasoline tax and electric car tax in Pima County to support roadway improvements
Ways in which the community can actively contribute to enhancing road conditions
This event is a significant platform for open dialogue, enabling attendees to gain valuable insights into the challenges faced by Tucson's transportation network and potential solutions to revitalize the city and county roads.
"Our August Lunch Meeting is a vital opportunity for the community to come together and engage in constructive conversations about improving our transportation infrastructure," said Michelle Cunnigham, CCIM President of the Southern Arizona CCIM Chapter. "We are delighted to host esteemed experts who can shed light on the challenges and opportunities in our road development."
The meeting is open to CCIM members and non-members interested in discussing ways to Fix Tucson's Terrible Roads. Attendees will have the chance to network with industry
professionals and participate in a comprehensive Q&A session with the panelists.
Be sure not to miss this important event! Register now HERE, as space is limited. For more information about the Southern Arizona CCIM Chapter and upcoming events, visit southernazccimchapter.com.
Following the "Fixing Tucson's Terrible Roads" Lunch Meeting, participants can attend a renewal class titled "ESG and its impact on commercial property owners & licensees." This session will commence at 1:30 PM on August 8th, immediately after the lunch meeting, taught by esteemed instructor Pat Sheahan. In this dynamic and informative class, attendees will delve into ESG (Environmental, Social, and Governance) and its profound impact on commercial property owners and licensees. ESG has become a critical factor in the real estate industry, shaping decisions and strategies for sustainable and responsible practices.
During the class, participants will:
● Learn the fundamentals of ESG and understand its implications for the commercial real estate sector.
● Identify the critical risk factors ESG poses for commercial property owners and licensees, helping them make informed decisions and mitigate potential risks.
● Discover which types of commercial properties are most vulnerable to meeting ESG requirements, guiding participants in aligning their properties with sustainable practices.
● Acquire practical strategies to protect their clients and themselves, ensuring compliance with ESG standards and fostering responsible real estate practices.
This exclusive ESG class is a unique offering designed for Continuing Education (CE) credit in Arizona. It presents an invaluable opportunity for real estate professionals to stay ahead in the rapidly evolving landscape of responsible and sustainable practices within the industry.
Please note that this class is available exclusively as part of the Southern Arizona CCIM Chapter's August event lineup, and seats are limited. Don't miss this chance to enhance your
knowledge and skills while earning CE credits. Register now HERE.
About Southern Arizona CCIM Chapter: The Southern Arizona CCIM Chapter provides exceptional educational and networking opportunities for commercial real estate professionals. As part of the global CCIM Institute, the chapter aims to promote the highest commercial investment real estate standards by cultivating industry knowledge, expertise, and professionalism.