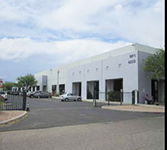 Tucson, AZ – Revenue Cycle Center dba Shared Services Center (SSC) Tucson, a provider of business office support services and an affiliate of Northwest Medical Center and Oro Valley Hospital in southern Arizona, is expanding into 60,405-square-feet at 6223 S Palo Verde Road in Tucson. The flex industrial building had been previously occupied by Raytheon and fully built out as office space.
SSC will create 200 new jobs with the expansion and bring its total to nearly 300 employees responsible for business services including the processing of medical insurance claims, billing, appeals, insurance collection and customer service. Currently SSC is located at Northwest Medical Center with more than 85 employees. The new location will begin operations on November 1, 2014.
"Arizona's high-skills talent pool continues to be a magnet for companies in multiple growth industry sectors," said Sandra Watson, president and CEO, Arizona Commerce Authority. "Our state's robust healthcare and biotechnology ecosystem is a platform for employers in related service areas to build their workforce, innovate and advance their business long term."
Tim Healy and Bob DeLaney of CBRE Tucson represented the landlord and Rick Kleiner MBA, Principal and Office Specialist with Cushman & Wakefield | PICOR and Jim Eaton with Geis Realty Group, Inc. of Philadelphia, PA represented Community Health System's affiliate Northwest Medical Center.
"This significant expansion will support the growth of Northwest Medical Center and Oro Valley Hospital," Kleiner said. "Community Health Systems, Inc. headquartered in Franklin, TN is one of the nation's leading operators of general acute care hospitals."
The organization's affiliates own, operate or lease 207 hospitals in 29 states with approximately 31,100 licensed beds. Northwest Medical Center is a 300-bed hospital offering a full range of healthcare services including Emergency services, accredited chest pain and heart failure programs, neurology and neurosurgery, outpatient imaging, a nationally accredited surgical weight loss program, total joint program, spine program and stroke center.
Kevin Stockton, CEO, Northwest Medical Center said, "Our hospital is dedicated to serving the Tucson area with compassionate care, and we are able to expand our commitment to this community by creating high quality jobs. We are fortunate to have a diverse and talented workforce in our region so these jobs can be filled locally."
"Tucson is a vibrant community with a growing national reputation for attracting quality employers," said Mayor Jonathan Rothschild. The relationship we've already built with this project will continue and we stand ready to assist for many years to come."
Ward 5 Councilman Richard Fimbres had this to say, "We're excited by the opening of a new business and 200 new good paying jobs in Ward 5. The City needs to continue to encourage as much business growth as possible."
"We're experiencing momentum as the Tucson region advances its economic growth, post-recession," said Joe Snell, president & CEO, Tucson Regional Economic Opportunities, Inc. (TREO). "We appreciate the commitment that Shared Services Center Tucson is demonstrating by significantly growing jobs in southern Arizona."
TREO's assistance with incentive funding helped to make the SSC expansion possible.
SSC has already begun filling open positions, including management and business support positions. Interested applicants may apply by visiting the careers page at https://www.northwestmedicalcenter.com Median salary is $15-$17/hour. The project includes $5 million in capital investment, generating a $96 million economic impact.
To learn more Kleiner can be reached at 520.546.2745. DeLaney can be contacted at 520.323.5171 and Healy is at 520.323.5119. To speak with TREO call 520.243.1900 or visit www.treoaz.org.