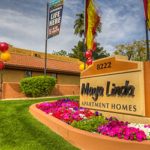 Strategy to Invest in Value-Add, Multi-Family Assets Located in Southwestern U.S.
PHOENIX, AZ – Sterling Real Estate Holdings, a joint venture formed between Barker Pacific Group (BPG) and Pacific Real Estate Partners has acquired Maya Linda Apartments, a 360-unit apartment complex located on a new light rail station in the emerging "19 North" submarket of Phoenix.
"We're thrilled to complete the acquisition of Maya Linda Apartments," said Michael Barker, Principal at Sterling Real Estate Holdings and BPG's CEO and Managing Director. "It's in a great location in the heart of Phoenix and, despite its age, the building has been well maintained."
Built in 1981, the 213,288 square foot apartment community offers studio, one and two-bedroom units. Existing community amenities include a fitness center, two swimming pools and a business center. The complex is currently 94% occupied.
"We feel Maya Linda Apartments presents a great opportunity to implement a repositioning and renovation strategy," said David Zeff, Principal at Sterling Real Estate Holdings and president of Pacific Real Estate Partners. "Over the next few years, plans for the property include increasing curb appeal, re-branding, common area renovations and unit interior upgrades."
The property was not actively marketed for sale and has been owned and managed by the same owner for the last 11 years. The asset was acquired all cash with a private equity partner.  Agency financing will be arranged post-closing from Walker & Dunlop.
The acquisition of Maya Linda Apartments is part of Sterling's focus on investing in value-add, Class B and Class C multi-family assets located in Southwestern U.S. markets, including San Antonio, Austin, Phoenix, and Reno. To date, the joint venture has acquired three properties in Phoenix and San Antonio totaling 729 units.
Sterling is actively pursuing additional opportunities in Arizona, Texas and Nevada. For more information, please visit https://sterlingrealestateholdings.com/.