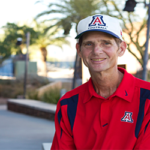 Steve Kozachik is a member of the Tucson City Council in Arizona, representing Ward 6. He was elected to the council in 2009. He is 60 years old and has a B.A. in Public Administration and an MED in Higher Education Management.
Steve has worked for the University of Arizona since 1988 in the Department of Intercollegiate Athletics. He is the Associate Director of Athletics for Facilities and Project Management, responsible for overseeing project management from design through occupancy. Prior to that he worked in Industrial Relations for ASARCO and ran a small business (Long John Silver's).
Steve's interests include all forms of athletics, primarily long distance running and biking.
In his April 11th Newsletter, Kozachik writes in opposition to the 30% Broadway Widening project, given its name due to the 33% reduction in scope, that was compromised from the original 2006 voter approved RTA project. Kozachik is a persistent voice of opposition on Tucson City Council:
While some of the supporters of the 30% alignment have nuanced arguments, as I was sitting through the Broadway public hearing last week, it struck me that what we were hearing was a point-counterpoint of

Each brought their unique – and not unsupportable – perspectives to the table. There wasn't much common ground for us to grab onto in order to come up with a compromise that'll work for everyone.
The project first came onto the public radar screen with the 1997 county bond that was adopted for Broadway enhancements. No alignment or scope for the project was identified in that $25M commitment.
The project was refined in the 2006 RTA ½ cent sales tax vote. Broadway was one of 35 roadway projects included in the $2.1 billion RTA voter-approved package. It's $74M of over 2 billion dollars of projects. On the ballot, it was identified as an eight lane, 150' wide roadway, sold to the voters based on 10-year-old traffic projections that have since been debunked. Two years ago during the current design process, the RTA agreed that building what was on the ballot made no sense from the standpoint of need or cost. The argument can no longer be made that we're doing this because it's what the voters asked for.
On April 19th, we will be asked to approve funding for city real estate to begin the property acquisition process. Many business operators from along the corridor have been waiting for the taxpayers to come in and buy them out due to the impact of the project. Investments have largely been avoided as a result. It has become a self-fulfilling cause and effect; that is, you know you're a short-timer on the corridor, so why invest in the upkeep of your building when you know you'll be relocated at taxpayer expense anyway?
The RTA and County have drawn a line in the sand saying anything less than six travel lanes will 'not be funded.' Traffic projections still do not demonstrate the need for what's being proposed.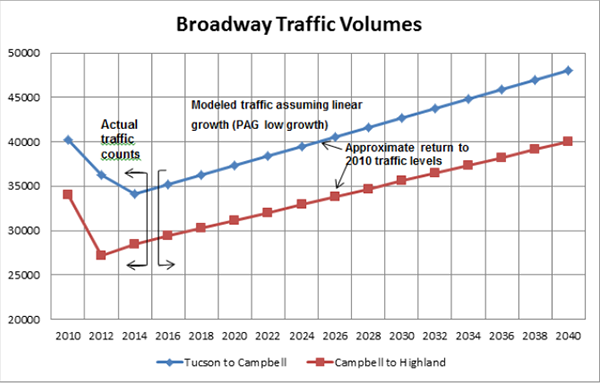 On the day the 2006 RTA measure was passed, traffic volume on this segment of Broadway was just under 45,000 trips per day. As you can see from the projected traffic volumes shown above, the eastern segment of the Broadway project won't hit those numbers again for 20 years. And the western segment, where much of the demolition's proposed, won't get there until well beyond 2040, if ever. All of the modeling shown in the Design Concept Report assumes 22% growth in auto travel. Even if that happens, in 2040 the western segment still won't be at the level of travel they were a decade ago when this was voted on.
Progressive urban planning creates destinations. The RTA/County model is to demolish existing businesses and homes and lay in new asphalt so the cars they assume will appear can move through the area more quickly. It's the tension between those models that's causing the heated debates on how this project moves ahead. That tension is being driven by the RTA/County insistence that we build what we don't need, and won't need when our unborn children are graduating from college.
2015 RTA Board Members:
City of Tucson Mayor
Jonathan Rothschild,Chair
Town of Marana Mayor
Ed Honea, Vice Chair
Town of Sahuarita Mayor
Duane Blumberg, Second Vice Chair
Pima County Board Supervisors
Ramón Valadez, Member
Pascua Yaqui Tribe Vice Chairwoman
Catalina Alvarez, Member
Tohono O'odham Nation Chairman
Edward Manuel, Member
City of South Tucson Mayor
Miguel Rojas, Member
Town of Oro Valley Mayor
Satish Hiremath, Member
Arizona State Transportation Board Representative
Mike Hammond, Member
Pima Association of Governments / Regional Transportation Authority
Farhad Moghimi, Executive Director
Come out on April 19th to hear the discussion. I'm hopeful TPTB huddle up ahead of that and see they need to consider what the people have been asking for since our April 30, 2012 rally outside of the church at Campbell and Broadway – resurface the current curb-to-curb cross width, preserve the option for high capacity transit, and enhance the existing areas outside the curb lines. And have money left over for other RTA projects.
But the RTA and county are mandating what's not necessary or desired. Just because you spend a lot of taxpayer money doesn't make it good urban planning.
I'd toss in one more group. The roadway is a part of the Rio Nuevo District. Many of the storefronts that are now covered by stucco may still have the original brick underneath. Or under the stucco could be stone, rock walls, or patterned stucco that was redone 25 years ago. The point is that of course they need a facelift – but that doesn't equate to applying eye-liner with a bulldozer.
Rio gets tax money from this area. Save the buildings that many call old and worn, get an investment influx from Rio to restore the original brick look (like what happened to Chicago Store downtown–also in the Rio District) and this area becomes what it once was –a destination, walkable, and a shopping haven. Here are some graphic examples of what's being portrayed as old and worn down buildings, but behind the stucco façade is the rich history the buildings can once again display – if the people holding the purse strings choose to allow this stretch of corridor to become the example of good urban planning the people have been asking for.
Steve Kozachik
This project is a Regional Transportation Authority Plan  roadway improvement managed by the City of Tucson that will widen Broadway: Euclid to Country Club to a 6-lane arterial, with bike lanes, sidewalks, and landscape.  The project is currently in the design phase.  Acquisition is to begin in 2016.  Construction is not anticipated until late 2017-2018.
Visit the project's Design and Construction web site at www.broadwayboulevard.info for the most current information, to find contact emails and phone numbers, and to provide comments.  Details about the RTA plan are available at www.RTAmobility.com.
It's not too late to be heard, questions and comments can be submitted to the Tucson Department of Transportation before April 15th. Take 1-2 minutes now and submit a quick "I support the Broadway 30% plan" by clicking on the following link: https://www.broadwayboulevard.info/comments.php