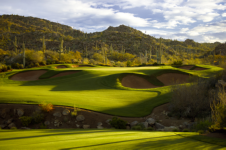 Enclave Holdings, LLC a company formed by Terry Klipp of Terramar Properties, Inc. of Tucson purchased the conceptual site plan for a new 70-lot residential subdivision, known as Stone Canyon Enclave, for $3 million ($43,000 per lot). Located in Stone Canyon in Rancho Vistoso, north of Tortolita Mountain Circle and east of Hohokam Village Place in Oro Valley, the property is also known as the Stone Canyon Donut Hole due to its vicinity to Stone Canyon Golf Course.
The property was platted in two phases with the first 36-lots reported last October when the Oro Valley Town Council approved the conceptual plan for a medium density residential 36-lot single family subdivision. The final plat for Stone Canyon Enclave with an additional 34-lots has since been submitted for the Rancho Vistoso Planned Area Development.
Surrounded by the Stone Canyon Golf Course, the subdivision will sit on approximately 28 acres of vacant property and feature single-story homes on lot sizes ranging from 10,000 to 15,000-square-feet and 80' frontage. Zoning would have allowed for almost double this density, Klipp told us.
The property will feature two points of ingress and egress, from Rock Haven Place on the south and Hohokam Village Place on the north.
Klipp says "The development of the Stone Canyon Enclave site will not be without challenges, it has the golf course on three sides that bring setbacks requirements and after all, it is called "Stone Canyon" for a reason."
Klipp and partner, Bob Morken of Terramar Properties, with extensive business experience in site development over the past 25-years, are excited about the prospects for this premier upscale subdivision in Oro Valley.
Jim Vincent and Mike Carlier of the Carlier Company represented the buyer and seller, RAHFT Holdings of Tucson, an affiliate of the Hansen Family Foundation (Paul and Susan Lea Clifton, managers).
Klipp should be contacted at (520) 577-7800. Vincent is at (520) 548-0216 and Carlier at (520) 529-3800.
Login for additional information.
[mepr-show rules="58038"]Sale date 2/19/2014. $2 million down. Buyer has agreement with Fairfield Homes (David Williamson) but was not willing to talk about builder at this time. Property was in escrow for over a year due to entitlements.[/mepr-show]