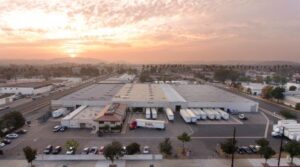 The firm initially paid $21 million for the asset in July 2021.
POMONA, Calif., September 26, 2022 – Stos Partners, one of the most active commercial real estate investment and management firms in Southern California, announced its recent disposition of a 182,275 square-foot industrial building located in the infill Los Angeles County submarket of Pomona, California for $45.9 million.
"As a highly active buyer in Southern California, our firm leveraged its close relationships with local brokers to acquire this asset in 2021," says CJ Stos, Principal at Stos Partners. "Upon a successful year of ownership, we were able to capitalize on the strong market demand for industrial space in Los Angeles County and secure a premium sale price for this property."
Demand for well-situated industrial space in the market has skyrocketed since 2021, with warehouse properties commanding a 63.1% higher sales price point in Q2 compared to the previous quarter. Stos Partners took advantage of the limited availability of this space in the market to seek out a buyer.
"This quarter, we have seen vacancy levels an all-time low in Los Angeles," notes Tanner Jansen, Vice President of Acquisitions at Stos Partners. "At a vacancy rate of 0.9%, the second lowest in the U.S., Los Angeles continues to appeal to both users and owners. This asset offers the buyer immediate cash flow and long-term value creation opportunities over the next several years."
The project is situated on 8.48 acres of land and is 100% occupied by an in-place tenant, credit-backed manufacturing and distribution company.
"The fact that there is a continuing occupier at this property demonstrates the strong demand for prime industrial space by users in the area," notes Jason Richards, Partner at Stos Partners. "Tenants have been quick to renew leases and secure their spot in the tight Los Angeles market, making this asset especially desirable for investors."
Amenities at the rail-served property include 18 dock- and 12 grade-level doors, 19' to 21'-high ceilings, 7,200 square feet of office space, 82 parking spaces, two street entrances, and convenient access to nearby shipping ports and airports to facilitate distribution processes.
"Given the fierce competition and scarce inventory available for amenitized, well-located industrial properties in the Los Angeles region, the move to sell this asset was a strategic and well-planned initiative for our firm," says Jay Boyle, Executive Vice President at Stos. "We identified an excellent opportunity to benefit from the ongoing growth of this market and the property's multitude of attributes."
Stos self-represented itself as the seller in the transaction. Jeffrey Cole, Jeffrey Chiate, Bryce Aberg, Brad Brandenburg, Mike Adey, and Zachary Harman of Cushman & Wakefield represented the buyer in the transaction.
The property is located at 159 North San Antonio Avenue in Pomona, California.