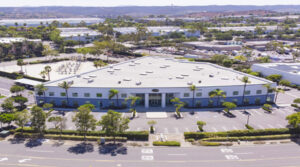 The firm initially acquired the asset in November 2021, implementing successful lease-up strategies throughout ownership.
POWAY, Calif., (November 18, 2022) – Stos Partners, one of the most active commercial real estate investment and management firms in Southern California, has announced the successful sale of a 37,530 square-foot corporate headquarters and manufacturing facility in the central San Diego County city of Poway, California for $13.9 million.
"The San Diego market has seen much demand for prime industrial assets that are situated close to highways and transportation routes," says CJ Stos, Principal at Stos Partners. "Our team identified this asset's value during the initial acquisition last year. Through deep relationships with local brokers, we were able to secure a buyer for the property in less than a year."
Like many other industrial markets throughout Southern California, San Diego County has seen record-low vacancy rates in the most recent two quarters of this year, despite rising interest rates and rent prices, the latter of which have risen by nearly 24% over the past three years. In Q2, industrial vacancy rates were reported at 1.45%, with almost 914,000 square feet of industrial space positively absorbed in that same quarter, notes Jason Richards, Principal at Stos Partners.
"A year ago, our firm acted quickly to acquire this prime asset off-market when it fell out of escrow, closing the acquisition within 40 days," adds Richards. "We knew this property's attributes would interest buyers looking to step into the Poway market. In fact, in Q3 this particular submarket saw a record-low vacancy rate of 0.4%, far surpassing the overall San Diego rate."
Utilizing its proven value-add strategy to renovate industrial assets, the Stos team carried out capital improvements to the property including a new roof, HVAC system replacement within the warehouse, interior renovations, and exterior improvements to the parking lot and landscape and successfully secured a tenant to fully lease the space – all in less than a year of ownership, points out Jay Boyle, Executive Vice President at Stos Partners.
"This sale speaks to our firm's ability to identify properties that require minimal upgrades and maintenance, which can offer future owners a prime addition to their portfolio with the potential for steady cash flow," says Boyle. "With stabilized occupancy for the next nine years, the owner stands to benefit greatly from this acquisition in a market that has become highly competitive."
Built in 1999 and renovated earlier this year, the property is currently leased to Automation NTH, an automated manufacturing systems company. The tenant has access to on-site amenities including two dock-high and two grade-level loading doors, a 24-foot-high warehouse ceiling, ample parking lot with 88 parking spaces, 800-1,600 amps of power and a 3,000 square-foot wet fire suppression system.
"This asset is perfect for the current tenant's needs, and the amenities make it a well-rounded space to accommodate the requirements of any future tenants specializing in biotech, manufacturing, and industrial uses," says Travis Gorzeman, Vice President of Asset Management at Stos Partners. "The new owner will be able to capitalize on the market's accelerated demand for prime industrial space for years to come."
Stos Partners was represented by James Dunkin and Vickie Barrera from Kidder Matthews as the seller in the transaction. Rusty Williams and Chris Roth of Lee & Associates represented the private buyer in the transaction.
The property is located at 13955 Stowe Drive in Poway, California.