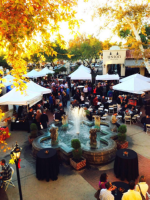 The Arizona Wine Growers Association is proud to proclaim the inaugural Wine in the Desert Arizona wine festival a huge success. Approximately 450 attendees enjoyed wines from 15 Arizona wineries. This was the first time an Arizona Wine Growers Association event was held in Tucson, and everyone who participated called for the event to continue as one of AWGA's signature events.
Wine in the Desert featured 15 Arizona wineries from Arizona's three established growing regions: Arizona Stronghold, AZ Hops and Vines, Callaghan Vineyards, Charron Vineyards, Flying Leap Vineyards, Freitas Vineyard, Gallifant Cellars, Golden Rule Vineyards, Pillsbury Wine Company, Kief-Joshua Vineyards, Lawrence Dunham Vineyards, Lightning Ridge Cellars, Page Springs Cellars, Saeculum Cellars, and Zarpara Vineyards.
In addition to introducing Arizona wines to Tucson, the event highlighted the industry's partnership with Yavapai College and the University of Arizona's College of Agriculture and Life Sciences. The objectives of the partnership are to:
  Develop the Southwest Wine Center to provide viticulture and enology academic programs;
  Establish a wine industry knowledge repository of best practices, historical data and industry research;
  Develop the University of Arizona Wine Library, advanced educational programs, and provide industry research/technical assistance support.
Together, Arizona Wine Growers Association, Yavapai College and the University of Arizona are collaborating to strengthen and expand the emerging wine industry statewide. Festival participants had an opportunity to support the collaboration by sponsoring the UA/CALS Wine Library and adopting vines planted at Yavapai College.
If you missed this event, the AWGA will return to the area with its "Off the Vine" Arizona Wine Festival to be held in Oro Valley on Saturday, Feb. 22, 2014.