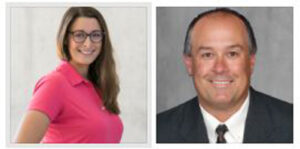 TUCSON, Ariz. (January 20, 2023) – Sundt Construction's Building Group recently promoted Courtney Hoyt and Mike Hill in the Building Group's Southwest District, Tucson Region.
"Both Courtney and Mike are very deserving of their new roles," saidIan McDowell, Sundt Vice President and Regional Director. "Their dedication to Sundt and the passion for their work makes them a natural fit for these larger positions."
Hoyt has been promoted to assistant project manager. She has served in the construction industry since her first internship in 2013 and has been with Sundt for four years as a project engineer and field superintendent. She has worked on multiple University of Arizona projects such as the Student Success District and the Chemistry Building renovations and additions. Hill has been with Sundt for 20 years and has been promoted to project director. He will be focused on aviation projects in the West and Southwest. Hill is a recognized industry veteran with over 44 years of industry experience, much of which has been spent managing large, complex projects. His expertise includes airport terminals, mission critical operations, hospitals, community facilities and corporate office buildings.
Sundt opened its Tucson office in 1929. In the decades since, it has built notable landmarks across the Old Pueblo. Recently, the company completed the UArizona's Student Success District and the I-10 Ruthrauff Interchange. Sundt is currently renovating the chemistry building on the UArizona campus, which Sundt initially built in the 1930s. The company continually ranks in the top five of ENR Southwest's Top Contractors.