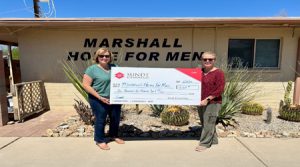 Donations will support eight organizations focused on disadvantaged children and adults.
Tucson, Ariz. (July 7, 2023) - The Sundt Foundation recently awarded $37,610 in grants to eight Tucson charities.
"These eight organizations are providing essential services to our community, and our Sundt Foundation members are pleased to support these local nonprofits," said Amy Bojorquez, the Sundt Foundation's Tucson region board member.
St. Luke's Home in the Desert received a $10,000 grant to support renovations to its home, which provides quality assisted living care for low-income individuals.
A $6,610 grant was awarded to Marshall Home for Men to aid the nonprofit's efforts to make urgent home repairs. The Marshall Home is a personal care facility for elderly men with limited means, and most of the residents are veterans.
Youth on Their Own (YOTO) and Wheels for Kids each received $5,000 grants. YOTO will use its grant award to support the YOTO Mini Mall, where youth experiencing homelessness can receive free basic items such as food, hygiene supplies and school supplies. Wheels for Kids collects and overhauls used bikes that are then distributed to deserving kids, teens and adults. The grant award will be used to purchase bike helmets, parts and locks.
Gabriel's Angels received a $3,500 grant to support the expansion of its Pet Therapy Teams in Tucson. Gabriel's Angels delivers free pet therapy services to at-risk children in Arizona.
The following three nonprofits each received a grant of $2,500: Inside Out Network, BICAS and Tu Nidito Children and Family Services.
Inside Out Network connects men and women leaving incarceration to assistance in nine categories: shelter and housing; support groups; multiservice agencies; churches and ministries; substance abuse treatment; health care; legal matters; employment and job training; and education.
The BICAS grant supports its Youth Earn-a-Bike program, a multi-session bicycle repair course where students learn bicycle mechanics, practice tangible skills, build self-confidence and earn a bike.
Tu Nidito Children and Family Services provides emotional support programming to children, teenagers and families impacted by the diagnosis of a serious medical condition or death of a loved one.
The Sundt Foundation awards quarterly grants to local Southern Arizona charities that support disadvantaged children and families. Nonprofits are selected through an application and review process led by a committee of local Sundt employee-owners.