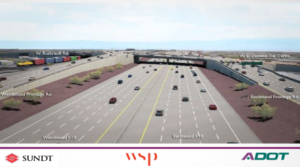 TUCSON, Ariz. – Sundt Construction, Inc. has started work on the new Ruthrauff Road and Interstate 10 (I-10) interchange on the Northwest side of Tucson.
The $79 million project will be similar to Sundt's recently completed project at Ina Road, where the overpass now spans over I-10 and the Union Pacific railroad running parallel to the interstate. Once completed, the interchange at Ruthrauff will add the same benefits by allowing traffic to pass over the interstate and railway safely while minimizing delays on adjoining roads.
The project includes widening I-10 to four lanes in each direction and reconstruction of the traffic interchange. Other improvements include widening Ruthrauff Road and El Camino del Cerro to two lanes in each direction near I-10, reconstructing the I-10 frontage roads to connect to the new interchange and other miscellaneous work including constructing concrete barriers, storm drain, guardrail, granite mulch, landform graphics, signing and pavement marking.
Construction is slated to complete by the end of 2021 with the Ruthrauff Road overpass opening to traffic by fall 2021 and interchange ramps opening later in the year.
Sundt opened its Tucson office in 1929. In the decades since, it has built notable landmarks across the Old Pueblo including nearly 60 buildings on the University of Arizona campus, the 4th Avenue Underpass and most recently the Banner-University Medical Center Tucson's new tower. The company has three offices in Arizona: Tucson, Tempe and Phoenix.