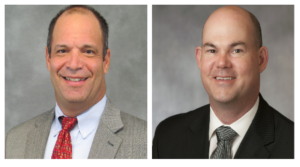 TUCSON, Ariz. – Sundt's Vice President and Tucson Regional Director Ian McDowell and Project Director Dave Ollanik have been selected to head two different Tucson organizations. McDowell will serve as the Vice Chairman for the Tucson Metro Chamber of Commerce Board of Directors in 2020, moving to the position of Chairman in 2021. Ollanik has been appointed chairman of the Metropolitan Pima Alliance Board.
McDowell has served as a member of the Tucson Metro Chamber's Board of Directors for the past four years. A 25-year veteran of the construction industry, he has volunteered his time in various industry and community leadership roles across Southern Arizona, including Board of Director roles with Sun Corridor, Inc., the Arizona Bowl, and the January 8th Foundation.  He is also an active volunteer with the civil engineering department at the University of Arizona and is a member of various committees within the Southern Arizona Leadership Council (SALC). McDowell oversees building operations in Southern Arizona for Sundt. In his tenure with the company, he has been involved in hundreds of projects in Southern Arizona, including Sundt's award-winning renovation of Old Main on the University of Arizona campus, the new Pima Animal Care Center and the construction of the Tucson Mining Center for Caterpillar. McDowell earned his undergraduate degree in civil engineering from New Mexico State University and his MBA from the Eller College of Management at the University of Arizona.
Entering his eighth year as a member of the Metropolitan Pima Alliance Board, Ollanik has served in many different leadership roles in the region, including past chair of Triangle Y Ranch Camp Branch, Real Estate and Allied Professionals, and American Cancer Society. As project director at Sundt, one of the projects he manages is the construction of the University of Arizona Student Success District, Sundt's 58th project with the university. A 32-year industry veteran, he holds a bachelor's degree in business administration from the University of Arizona.
Sundt has over 90 years of experience in Arizona, with offices in Tempe, Tucson and Phoenix. Ranked the third largest contractor in the Southwest by industry-leading publication ENR, Sundt is currently working on the University of Arizona Student Success District and is nearing completion on Oro Valley's All Seasons Senior Living facility.