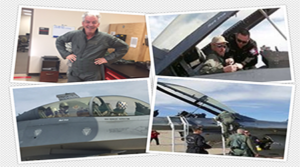 TUCSON, Arizona -- For the past six decades, Davis-Monthan Air Force Base (DM) has been an integral part of the Tucson community. The synergy between Tucson and DM greatly enhances our local economy while ensuring our national security.
This past weekend, Mark Irvin, CCIM, SIOR, of Mark Irvin Commercial Real Estate Services was honored for his dedicated service to the Base. For more than five years, Irvin and Marshall Dennington have jointly served as Honorary Commanders of the 355th Fighter Wing at Davis-Monthan Air Force Base.  They are also members of a support group that helps airmen every year during the holidays.
Irvin was also one of the Founders of the Arizona Bowl, now known as the Nova Home Loans Arizona Bowl, and was instrumental in securing donations from local businesses, including his, to purchase tickets for military families of all branches.  This past year, approximately 10,000 military personnel attended the Bowl game thanks to Irvin's ongoing efforts.
Initially appointed in 2012 by Colonel John Cherrey. Irvin shared the role as Honorary Commander with Marshall Dennington, owner of Temco Air Environmental.   They were reappointed by Colonel Kevin Blanchard, Colonel James Meger, and most recently by Colonel Scott Campbell.
It is unusual to serve as an Honorary Commander for over 5-years, given the appointment is for a two-year term much less the privilege to work with five different Colonels during this time.
Paul Dias, owner of Dias Management, an Owner/Operator for McDonald's, has now stepped in, at the suggestion of Irvin and Dennington, to serve as the new Honorary Commander for the 355th Fighter Wing.   Irvin said, "We were appreciative to the Base for asking us to help select our replacement.  Paul will be outstanding."
Sunday, in appreciation, Irvin received his 'honorary' F-16 ride and shared his experience on his Facebook page:
"Talk about going vertical! What an adventure. I spent most of Thursday morning at the Davis-Monthan Air Force Base going through a safety brief, parachute simulator, reviewing a few safety and equipment videos and getting outfitted in a flight suit, G-Force suit, boots, helmet, gloves, flight harness, etc. Afterward, I got to go take a look at the F-16 D model (it is the 2-seat version) I would fly in on Sunday and meet the ground crew and pilot."
"Sunday was over the top awesome. The Heritage Flights (old and new aircraft flying together) before hand was simply amazing. However, it all took a back seat, as did I, to the F-16 flight."
"It was an amazing experience. We went vertical right after we cleared the runway and pushed it up to about 14,000 feet at 6.5 G's, faster than it took me to type this. My pilot was Colonel Jay "Saw" Thomas. What a cool character he is - just like all fighter pilots I have had the opportunity to meet."
"Seriously, despite all the stories about past rookies in the plane, I only ended up with a sore neck from the G forces. It will take a few days for that to go away. The memories never will."
"Having my son Christopher join me was special for both of us."
"Stepping down, has been one of the toughest things I have ever had to give up. It has been an over the top experience. However, I am not giving up anything but rather just stepping to the side. Marshall and I have been named as Emeritus Honorary Commanders and will both stay very involved at DMAFB," Irvin said.
Irvin later added, "I have always had a great deal of respect and admiration for these incredible warriors who keep our country safe and allow us the freedom to enjoy our lives as Americans.  Going up and experiencing this first hand has given me a distinction I never had.  I can not image even being able to fly an F-16 much less being able to do that while engaging in air-to-air combat. These aviators are incredible.  They have an amazing ability to multi-task.  All are top tier athletes too.  They are all the best of the best.  My pilot, Colonel Jay 'Saw' Thomas was no exception."  
See flight take off here.
Davis–Monthan Air Force Base is one of the largest, key Air Combat Command installations in the United States Air Force. The Base provides medical, logistical, mission and operational support and training for U.S. forces at home and around the globe. Davis-Monthan employs over 7,000 military and 2,900 civilian personnel. The installation encompasses over 10,000-acres, 448 buildings, 1,256 homes, and a 13,643-foot runway.
Since its inception in 1925, over 61 Major Commands and Major Units have called Davis-Monthan home.
Davis-Monthan Airforce Base was named the outstanding installation in the entire Unites States Air Force in 2012 and again in 2016. Plus, the base has been recognized by the Association of Fund Raising Professionals as an outstanding philanthropic and volunteer organization in Tucson and Southern Arizona on National Philanthropy Day.