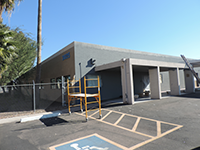 PHOENIX, AZ – Cushman & Wakefield of Arizona, Inc. completed the $1.56 million sale of an industrial property at 3025 W. Weldon Ave. in Phoenix, AZ.
The 23,500-square-foot building is situated on approximately three acres of land and was constructed in 1966. Talus Development Corporation, a Phoenix-based telecommunications and utility contracting firm purchased the building. Talus Development was in the market to purchase a property for its own use and the company will occupy the entire property.   The company purchased the industrial property from JAG Properties III, LLC of Arizona.
"The client's complex requirement was challenging to fulfill due to constrained supply of the property type desired, but our team successfully navigated the buyer to a property that met its needs," said Paul Sweetland senior director with Cushman & Wakefield. It is an ideal, centrally located building for their business."
Sweetland, Justin LeMaster and Keri Scott of Cushman & Wakefield's Industrial Properties Group represented the buyer. Greg Dodge of DTZ represented the seller.
To learn more Sweetland, LeMaster and Scott can be reached at 602.253.7900. Dodge can be contacted at 602.224.4418.