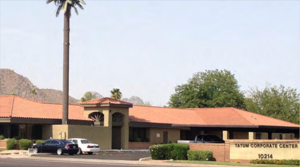 Scottsdale, AZ – Kent Circle Partners (Scott Seldin, President) announces Comprehensive Interventional Care PLLC, dba Comprehensive Integrated Care (CIC), has leased 5,546-square-feet in Tatum Corporate Center. Marking the first Primary Care office Comprehensive Integrated Care has opened in the Phoenix area. CIC is temporarily occupying 1,950square-feet in the complex while their new medical suite is undergoing a build-out.
CIC has seven locations in Arizona, including offices Gilbert, Tempe, Sun City, Mesa, Paradise Valley, Phoenix, and Flagstaff. They offer arterial care, vascular disease treatment, cancer care, cardiology services, podiatry, internal medicine, and diagnostic services.
Bret Isbell, Senior Vice President Kidder Mathews, represented the landlord, Kent Circle Partners, in the transaction.
Tatum Corporate Center is a 23,623-square-feet, garden-style office building located at 10214 N. Tatum Boulevard in Phoenix.
Kent Circle Partners |Seldin Real Estate, Inc. of Scottsdale - a privately-owned commercial real estate and investment company maintains holdings in retail, office, apartments, and land. Kent Circle Partners specializes in acquiring high-quality mixed-use real estate assets.