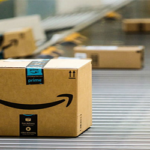 TUCSON, ARIZONA – That speculative warehouse/distribution center project for Century Park Research Center/Port of Tucson certainly appears to be an Amazon fulfillment center coming to 6701 S Kolb Road in Tucson.
And what better location could there possibly be to place one? See Real Estate Daily News The Port of Tucson where Rail Meets the Road. 
The year 2017 was a major one for the online marketplace. Amazon acquired health food giant Whole Foods and now owns 431 of its stores. With AmazonFresh, users can now order Whole Foods products online and receive them via delivery. Amazon also began the hunt for the perfect location to set up the company's second headquarters, which is planned to be just as large as its current Seattle headquarters. The company asked North American cities to send in proposals, and dozens of cities wrote in to throw their hats into the ring. Amazon has since whittled the 238 bids down to the top 20 candidates, and the company's second headquarters could end up anywhere from Boston, to Washington, D.C., to Atlanta.
AZBEX – Arizona Builders Exchange, a Phoenix-based online publication, has confirmed plans are in the works for a 875KSF warehouse/distribution center project at Century Park Research Center/Port of Tucson, and while the footprint will be 857KSF, the overall building area is 2.3MSF, according to the preliminary plan and documents AZBEZ was provided by a confidential source affiliated with the project.
Known as "Project Wildcat," the documentation includes a more than 1,100-page project manual assembled by Ford & Associates Architects. The manual includes project commissioning plans, tenant turnover plans and supporting materials published by "Amazon Real Estate and Construction" (Amazon Real Estate Services).
AZBEX received the materials a little more than a week ago and set about contacting county officials, members of the development team, Amazon officials and every other source they could think of. Being a massive private project, officials were even more quiet than one would normally expect. In most instances, not even a, "No comment" was received, just deafening silence, which just challenges good reporters to keep searching.
The Plans
If the 74.5-acre vacant site is developed according to the initial specifications, the base building will be structured as follows:
Ground Floor: 857.4KSF
1st Elevated RSP Level: (10'9"): 383.7KSF
2nd Elevated RSP / Process Level: (121'-6"): 671KSF
3rd Elevated RSP Level (132'-3"): 406.5KSF
RSP is an Amazon-specific term related to its use of robotics in its centers. The company is the global leader in robotics-based fulfillment in its distribution centers through the use of its proprietary Robotics Storage Platform – or RSP – functionality.
The four levels yield a total building area of 2.3MSF. Of that, 2.26MSF will be warehouse storage, 48KSF will be office space and 11.5KSF will be support areas, such as restrooms, a facility shop, etc.
A total of 63 loading dock spaces are planned, and 398 transport trailer parking spaces will be provided onsite. General parking spaces are planned at 2,505 divided between the office and warehouses employees and spaces for other users.
The documents list a targeted substantial completion target of May 15, 2019 and a full completion, including all punch list items, of June 15, 2019.
For full story click here https://azbex.com/that-giant-tucson-project-yeah-its-amazon/