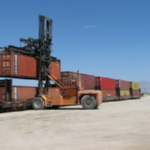 The Port of Tucson has been slowly unveiling itself to the region since about 2004. First for Domestic Service and this year reaching International Service status as an International Inland Port. Last Friday another accolade came to the Port of Tucson when it received notice that it was accepted for a $5 million federal TIGER grant.
This was the third year the owners have applied for a TIGER grant, but first time approved. Department of Transportation (DOT) 'TIGER programs are awarded on a competitive basis for projects that will have a significant impact on the Nation, a metropolitan area or a region'. The Port of Tucson grant which was sponsored by Congressman Ron Barber, Pima County with TREO support is for infrastructure improvements that will hopefully be what's needed to take this project to its full potential.
With an aging and overburdened U.S. interstate system, the strategic location of Tucson between Texas and California, and Canada and Mexico, makes it key to both rail and road service. You don't get cargo to Phoenix from the East Coast, Chicago, Texas (Asia) or Mexico by rail without going through Tucson. The Port of Tucson has already put in place a multi-million dollar infrastructure that includes 2 million-square-feet of warehouse buildings and nine miles of private rail tracks by the owners and is an active transportation and logistics center on the Union Pacific Rail line.
The Port of Tucson is privately owned and the only International "Inland Port" in Arizona. Being designated as an active foreign trade zone, containers do not have to pass through customs until reaching their final destination, a necessity for international containers being transported to and from Asia (via the Los Angeles Basin) and Europe (via Houston) as well as Canada and Mexico shipments. The Port of Tucson offers Chicago, Houston and Los Angeles rail service 6 days per week, with a transit time of 72-hours from Tucson to Chicago.
Alan Levin purchased Century Park Research Center in 1996 as 264-acres and has since grown it to 770 acres. Within Century Park he created the Port of Tucson, with the goal of creating such a logistics center for warehousing, distribution and manufacturing in Southern Arizona, all revolving around the full-service "intermodal" rail system that will efficiently accommodate the transfer of containers between rail and truck. The Port uses access to the trucking lanes off Kolb and Wilmot Roads, located north of Interstate-10.
With the awarding of the grant, the Port of Tucson is now looking forward to completing the project for which the grant was awarded. That is, to extend the Union Pacific rail siding an additional 9,200 feet for a needed deceleration track by the unit trains (normally 60-100 rail cars in length) and convert the current manual track switching, (that currently requires someone to physically go out and switch the tracks for trains going on the ramp) to a 'power switch' that could be monitored and controlled by Union Pacific from its control center in Omaha, NE. This would allow for higher exit speeds (up to 45 MPH) by the trains and a more seamless operation for the intermodal container ramp.
Mike Levin, Executive VP of Marketing for the Port, when asked about job creation explained that companies look at the transportation infrastructure of a region in their site selection check list. "Having a strong transportation hub is one of those things companies require when doing site selections, and the Port of Tucson only increases Arizona's competitiveness for transport to and from overseas markets." Levin acknowledged that the public may not fully understand the significance of the inland Port of Tucson to our region and have started a campaign to do more education.
"What we have here is really a regional asset," according to Levin. This is a project the entire region should feel proud of and Levin invites the public to call if interested in a tour of the facilities. Levin says, "Every train car takes four trucks off the road and because of weight restrictions for highway shipments, moving cargo by rail that never touches asphalt can carry an even greater capacity."
Russ Hall and Steve Cohen, Industrial Specialists with Cushman & Wakefield / Picor of Tucson are handling leasing of Century Park Research Center that includes the Port of Tucson. Hall can be contacted at (520) 546-2747 and Cohen should be reached at (520) 546-2750.
For more information on the Port of Tucson, Levin can be reached at (520) 623-1411 or visit www.portoftucson.net