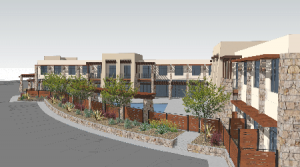 TUCSON, ARIZONA – The Eddy broke ground at 4626 North Campbell Avenue in Tucson at the end of February for this new  boutique hotel, located at River Road and Campbell Avenue. Jim O'Connell of Capri, Inc. the hotel developer, says this is his 17th hotel project, and will pay tribute to his grandfather, Eddy, who was a bread maker.
O'Connell bought the 4.3 acres in the lower Catalina Foothills that is north of the St. Philips Church on the east side of Campbell in March 2020, after neighbors expressed concerns over zoning changes and a proposed annexation into the City of Tucson, for a larger hotel wanting to be built by the previous owner. O'Connell however, agreed with the neighbors and has kept his building plans to the existing zoning and according to the County Planned Development Plan.
"The Eddy will be a sleek and modern two-story, 106-room, hotel and part of the exclusive Tapestry Collection by Hilton," said O'Connell. "Throughout the hotel, guests will experience an authentic sense of Tucson and some of the unique qualities of life here."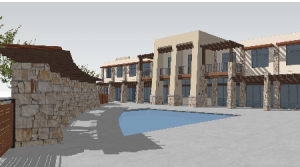 'Surrounded by 5 mountain ranges and bordered by two halves of Saguaro National Park, Tucson is a nature lovers paradise, for those who seek it. The Saguaro Cacti, native to this region, is the symbol of the Great American West. Tucson's lively downtown nightlife embodies that great spirit with its hip restaurant and bar scene. The Eddy, nestled in the Catalina Foothills, just North of downtown Tucson, takes its design inspiration from the owner's family roots. A comfortable, approachable environment focused on providing effortlessly stylish interiors; this hotel invites you to be a part of its history while offering you all the present-day conveniences you are accustomed to. Large windows beckon you to gaze upon the landscape and sink into one of the cozy seating groups as you reminisce about your day. The inviting outdoor firepit encourages you to gather with your friends to plan your next adventure or reminisce about your favorite experiences. Each guestroom provides a perfectly appointed haven to end each of your days. Your stay at the Eddy will leave you feeling wrapped in a warm embrace,' according to the hotel interior design development concept plan.
There will be walking paths that connect to 136 miles of paved pathways and bike lanes, The Chuck Huckleberry Loop. The St. Philip's in the Hills Episcopal Church and Joesler Village adjacent to the hotel are both designed by one of Tucson's own renowned architects, Josias Joesler. Across the street is St. Philips Plaza, the Eddy will be within walking distance of 8 of Tucson's best restaurants, including Sullivan's Steakhouse, Seis Kitchen, El Corral Steakhouse, P.F. Chang's, Union Public House, Reforma Modern Mexican, Proof Artisanal Pizza & Pasta and Villa Peru Restaurant.
The hotel will also have its own in-house restaurant and a pool feature with a bar / lounge  designed by Aqua Design International of Tucson.
The Tapestry Collection by Hilton is a portfolio of more than 75 original hotels that offer guests unique style and vibrant personality, and encourages guests to explore the local destination, in addition to the benefits of the award-winning Hilton Honors program
John Yarborough with Romano Real Estate assisted O'Connell with the land acquisition in March 2020.
This is the first hotel development for O'Connell in Tucson who continues to own hotels in 7 states.
The Eddy is expected to open next year, in July or August 2022.