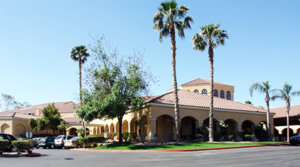 The structured loan repays the borrower's construction loan and funds reserves while the facility continues its stabilization
Los Angeles, CA & Phoenix, AZ — Thorofare Capital, which is expanding its Senior Housing bridge-to-agency lending program, has funded a $13 million short-term bridge loan for the refinance and renovation of Park Terrace at Gateway (Park Terrace), a 277-unit assisted and independent living facility located in North Phoenix, Arizona.
The two-year, interest only floating-rate loan provides an initial advance of $10 million to repay the construction loan and fund reserves to facilitate the lease-up of vacant units, with $3 million withheld for future funding of the completion of unit renovations and an "earn-outs" based on performance milestones.
The Sponsor, a Southern California-based real estate investor with international and domestic assets, purchased acquired the asset, then an Embassy Suites Hotel, in 2015 out of a bank's REO portfolio.  It was converted by the Sponsor to a senior living facility in 2016.
The ADA-compliant property consists of 184 independent living units and 93 assisted living units. It features a garden-style layout, with amenities including multiple recreation rooms, a tennis court, large pool, refurbished outdoor patio space and a walking trail.
"While the Phoenix market is absorbing a notable amount of new supply, this asset presented an attractive loan basis and it provides a value-oriented price point which does not compete with high end, resort-style senior housing assets recently built by REITs and institutional developers in the area," said Brendan Miller, Thorofare's CIO. "We were able to offer the sponsor a flexible bridge loan that included future funding for CapEx completion, an appealing structure coupled with an 'earn-out' with a fast execution given our well-capitalized platform and balance sheet capabilities."
Park Terrace is Thorofare's second Phoenix-area senior housing loan.  It previously funded a $19 million bridge loan for MorningStar at Arcadia, a Class A 135-bed assisted living community in the Arcadia sub-market of Phoenix.