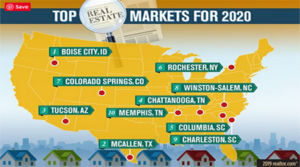 Realtor.com analysis puts Boise, Idaho; McAllen, Texas; and Tucson, Arizona in 1, 2 and 3 positions

Realtor.com is reporting next year's top housing markets are Boise, Idaho; McAllen, Texas; and Tucson, Ariz., according analysis of the 100 largest metros released recently.
In a year when sales are expected to slow by 1.8% nationwide, these top 10 markets are predicted to see a 2.4% increase. Likewise, home prices are projected to rise just 0.8% nationwide but 3.1% in these top metros. (The ranking is based on an analysis of projected home sales and price data.)
"The cities that we expect to do best in 2020 are not necessarily big, fancy, coastal cities, but secondary markets where the job market is still pretty good but housing is affordable," says Danielle Hale, chief economist of realtor.com.
It turns out, people are deciding it's just not worth it to work themselves to death to afford homes in the nation's biggest cities. That's so 2017! Instead, they're heading to places where their paychecks will go further and they can enjoy a more laid-back pace of life. In the realtor.com forecast of top markets to watch in 2020, the top 10 are mostly medium-size metros in the South and inland West.
We asked Tucson land broker, John Carroll with Land Advisors Organization his opinion on this. "This continues to add to a great year of news and articles regarding the Tucson housing market," Carroll said. "This ranking, heading into 2020, is another example of national exposure and strong momentum we have seen over the last eight years. The spotlight is well deserved as the local housing market is performing strong across the board.  We are anticipating nothing but good things for Tucson over the next several years. "
In the top 10 markets, home sales are expected to increase by 2.4% and prices by 3.1% on average year-over-year. This is in contrast to a 1.8% decrease in home sales and a 0.8% increase in sales prices nationwide, according the realtor.com.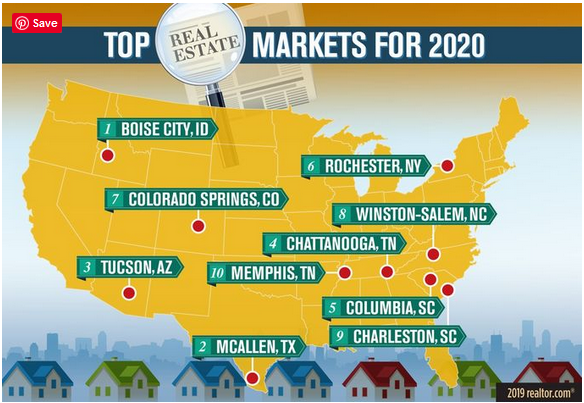 Top 10 markets in 2020
Boise, Idaho
McAllen-Edinburg-Mission, Texas
Tucson, Ariz.
Chattanooga, Tenn.
Rochester, N.Y.
Colorado Springs, Colo.
Winston-Salem, N.C.
Charleston-North Charleston, S.C.
Memphis, Tenn.
"Many of the markets on this year's list are late bloomers in the current housing cycle, meaning they still have plenty of inventory and prices are within reach -- a rare combination in recent years," said George Ratiu, senior economist, realtor.com. "Additionally, a number of the top markets in 2020 are welcoming an influx of buyers from nearby large cities that have become crowded, expensive and lack sufficient inventory."