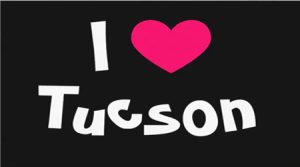 The TRENDreport's Hospitality & Tourism issue was released today.  Here are the editor's insights from this issue.
We all love it when someone from somewhere else succumbs to the subtle charms of Tucson. Less than half of us, after all, were born here. Some get it, and some don't. Whether it's the magic of the desert or the mountains, the food or the street murals, or everything combined, there's satisfaction when someone new "gets it!" We're reconfirming again why we love Tucson.
We've tried to bring 'that subtle charm' to this TRENDreport issue.
Arizona's tourism industry continues to deliver for communities statewide in 2022 as one of the state's primary economic drivers. According to new data released by the Arizona Office of Tourism, post-pandemic highs were achieved in metrics across the board, including tourism jobs and tax revenue collected.
Visitor spending reached $28.1 billion in 2022, translating into $77 million spent daily across Arizona's 90+ cities, towns, and communities.
As expected, all topline tourism data metrics, including overnight visitation, visitor spending, taxes collected, jobs generated, and tourism wages earned, topped last year's figures. Included is $3.98 billion in combined local, state, and federal tax revenue generated in 2022, which supports vital services such as health care, public safety, and transportation.
For additional data, go to https://tourism.az.gov/wp-content/uploads/2023/07/AZ_Final_2023-06-13.pdf
We welcome two of our newest hotels, The Leo Kent and The Eddy, in this Trendreport and thank Madison Beuer and Barbara Damiano-Marshall for these contributions.
Discriminating foodies know: Arizona is making waves on the culinary scene. Long known for our Mexican food, Southern Arizona has a menu for almost every palate and budget. Thanks to Edie Jarolim with Tucson Foodie for drawing attention to our beloved Independent Restaurants that continue to win the hearts and wallets of residents and tourists alike.
Visitors to Cochise County National and State Parks continue to mount, and our Catalina State Park Celebrated 40 years this year.
We appreciate Zabada Abouelhana explaining in "Tucson's Hotel Industry: Recovered and Evolving" the past to future trends in the hotel industry.
Thanks to Diane Frisch for reminding us of all the fun in Pima County, even during the Dog Days of Summer, and adding to my bucket list of things I haven't done yet in Tourism Strategy Paying Off in Pima County with Something for Everyone.
As President of Reid Park Zoo, Nancy Kluge will bring a smile with her construction update on the Reid Park Zoo expansion approved by Tucson voters in 2017.
Love for our animals hasn't gone unnoticed nationally either, as we see Tucson was named #1 Spot for Pet-Friendliest City in the country by Forbes Advisors.
We thank Branden White of CBRE for his insight into Tucson's Hospitality Market with his keen, trained eye for valuation, as astute and as appreciated as Kimbra Cole and Jerry Hawkins, specialized in Hospitality & Investment Real Estate, bringing details in Metro Tucson Hotel Investments for Summer 2023. We are proud and excited to have 606 New Hotel Rooms opened or opening soon this Summer.   
To all who helped with this Trendreport issue, we extend our sincere thanks. These noted individuals sharing of their time and knowledge make these reports possible.
In addition, we thank the Trendreport team: Patti van Leer, Michael Rossmann, Melissa Vucijevic, Jack Paddock, and Cindy Erwin.
We will be starting work right away on next month's Multifamily issue.
We also thank you, our readers, for your continued support. As always, we appreciate your feedback and welcome your comments!