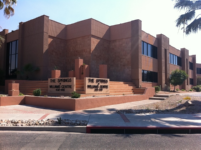 Truly Nolen (Truly) of Tucson has purchased The Springs at William Centre located at 432 – 442 South Williams Blvd in Tucson for $2.55 million ($92 PSF). The property consists of three buildings with an aggregate 27,646-square-feet (built 1987 & 1989) on 3.88 acres. Included with the sale was also three finished pads.
And yes, there really is a Truly Nolen we discovered. His actual birth name is Truly David Nolen. In 1955, following his father's footsteps from Florida, Truly opened his first pest control company in Tucson, Arizona, license #1-A was issued by the state for all pest control categories. During the next 59 years, the business has expanded and today Truly Nolen has more than 80 corporate branch offices in Arizona, California, Florida, Nevada, New Mexico, Texas and Utah and grosses over $100 million in revenue in the US. The company also has independently owned and operated franchises in an ever-growing number of states and territories including Kentucky, Georgia, New Jersey, Canada, and Puerto Rico, totaling 58 countries.
Truly's training for technicians and administration has been taking place in Phoenix at a location owned by the company. But, with the purchase of The Springs at William Centre, the Tucson-based company plans to bring its training back from Phoenix.  The property was about 75% vacant at time of sale, so Truly will occupy 434 S Williams Blvd while constructing an additional 10,000-square-foot building next door and letting the leases run out in the remainder of the buildings.
"Eventually, the four building will become a Truly campus, complete with mall area and pavilions for the several hundred of technicians and administrative students who will pass through each year," Bob Hartley, Vice-President at Truly Nolen told us. "It a five-year projection before being fully completed."
The Marriot Courtyard at Williams Centre next door and restaurants anxiously await the opening of the Truly campus.
Lloyd Construction is handling all aspects of the new construction.
Mark Irvin, CCIM, and Janine Irvin, CCIM, of Mark Irvin Commercial Real Estate Services in Tucson represented the seller, Gregory and Susan Melanson Trust of La Quinta, CA. Greg Boccarda, CCIM, of Boccardo Realty represented Truly Nolen in the transaction.
The Irvins can be reached at (520) 620-1833 while Boccarda should be contacted at (520) 955-0777 for more information.
Login for additional information.