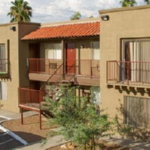 This article has been archived, please login for access or subscribe now by going to the subscribe tab at the top of page.
Colonia de Tucson Apartments at 1331-1335 West St. Mary's Road in west Tucson sold for[mepr-show rules="58038"]$2.38 million ($28,000 per unit). The seller was a private investment group out of Indiana.
Colonia de Tucson is a two-story apartment community built in 1983, comprising 84-units. The unit mix is approximately 52% one-bedroom and 48% two-bedroom units. Construction is of wood and painted stucco, with built-up roofs. Common amenities include a swimming pool, outdoor barbeques, two laundry facilities and 107 open parking spaces. Unit amenities include walk-in closets for the one-bedroom units. The property has a designated leasing office.
Colonia de Tucson is a combination of two adjacent properties, but are managed together and treated as one property. Recent exterior renovations were made to Colonia de Tucson Colonia de Tucson Apartments prior to sale. Colonia de Tucson is also convenient to public transportation, with bus service provided along St. Mary's Road.
Several neighborhood shopping centers, parks, churches and public facilities are located within one mile of the property. The University of Arizona and Pima Community College West campus are all located within easy driving distance. St. Mary's Hospital, a major source of employment, is one-half mile west of the property.
Natan Jacobs of the Vestis Group when asked 'why here' commented, "His buyer just wasn't able to find what they wanted in the Phoenix inventory, so they moved on to Tucson and are looking for more investments in Southern Arizona."
Bill Hahn, Trevor Koskovich and Jeffrey Sherman of Colliers International in Phoenix represented the seller. Natan Jacobs and partner, Les Litwin of the Vestis Group in Phoenix represented the buyer.
Hahn can be reached at (602) 222-5105, Koskovich is at (602) 222-5145, and Sherman at (602) 222-5109. Jacobs and Litwin should be contacted (602) 387-5330.[/mepr-show]
Login for additional sale information.
[ismember]Sale date 7/10/2013. Recent renovations ATOS included: new playground, basketball court, trash cans, mailbox enclosures, fencing, paint, roofs, A/C' s, signage, landscaping, slurry and striped parking lot, security cameras, ramadas, pool area with shading and furniture. Property sold at an 8.9% cap based on an NOI of $211,200 at time of sale, with 4-5 units vacant.   [/ismember]