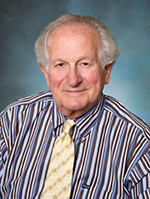 TUCSON, ARIZONA — Si Schorr was inducted into the CCIM Tucson Real Estate Legends Tuesday at the CCIM Annual Forecast Meeting. The induction takes place each year to honor those "legends" who have built the commercial real estate community in Tucson from its early beginnings.
The following presentation was read at the induction, presented by Jim Marian, CCIM, of Chapman Lindsey Commercial Real Estate and George Larsen, CCIM, of Larsen Baker:
Si Schorr is in top story telling form.  The story starts with a lettuce farmer named Bud Antle who once owned Peppertree Farms in Marana.  Dow Chemical Company was the property owner.  Then came Lew McGinnis, a storied real estate genius.  Charlie Keating got involved.  Tucson real estate legend Robert Sarver got into the act.
But it was Si Schorr who choreographed the property that is now the centerpiece of the Town of Marana.  You see, the lettuce farmer owned the land that became Cortaro Farms/Continental Ranch.  It is quite a story, and you will hear more about it from our 2018 real estate Legend … Si Schorr.
Not many of us knew Tucson in 1957.  That is when Si and his bride Eleanor moved to Tucson from New York City.  They came to Tucson for its healthy climate.  Their introduction to our town in 1956 was via the Benson Highway in a Ford convertible.  It was some honeymoon trip!
Si was a newly minted lawyer in 1957, and in those days, young lawyers were mentored by the likes of Roy Drachman and Evo DeConcini.  They told Si to get involved and help mold Tucson's future. 
Si took their advice to heart.  He served on the City Planning and Zoning Commission, then later he was Tucson's Assistant City Manager, and then Urban Renewal Director.  Later, he was the City's Special Counsel for Urban Renewal. He helped bring us the Tucson Convention Center and a myriad of downtown buildings.
He was also a founding board member of Pima Community College and helped buy their west campus land (for $2.50/acre!).  He was chairman of the State Transportation Board and was a founding Board Member of the Southern Arizona Leadership Council.
There's more ….  Si was Building Chair of the Tucson Jewish Community Center and the first Chairperson of the Regional Transportation Authority.  He served on the Tucson Airport Authority and the Tucson Parks and Recreation Commission.
All the while, Si was a practicing lawyer representing the who's who of Tucson's commercial real estate developers (most of them also Legends alumni).  Si was long ago recognized by his peers as one of the "Best Lawyers in America" for his land use/zoning law expertise.
And of course, Si played Father knows Best to his lovely wife Eleanor and his four children, two of whom are his law partners.  Quite a busy, happy, and purposeful life!
And oh the stories Si call tell!  He was here for Tucson's highlights (IBM's relocation to Tucson in 1976) and for its low lights (the Motorola fiasco in the late 1970s).  He was the go to lawyer for GAC, the largest land developer in the world.  He represented the land owner for the largest rezoning case ever in Pima County.  He figured out how to get Williams Centre built.  He'll tell us some of these stories about Tucson's past.
Si worked alongside of Tucson Legends like Roy Drachman, Bill Estes, Peter Herder, Joe Kivel, and Bert Lopez.  He helped guide Tucson's growth and prosperity over the past sixty years, as it evolved from a small town to a big city.  Si is still contributing to our city today and, in his 8th decade, is still practicing law as a senior partner in Lewis Roca Rothgerber Christie.
Tucson CCIM Real Estate Legends welcomes Si Schorr and thanks him for getting involved and helping to mold Tucson.