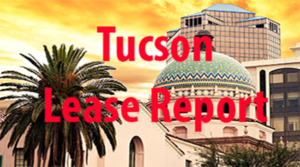 TUCSON, ARIZONA, May 1, 2023 -- Highlighted this week are several fully leased properties. First, Alliance Exposition Services leased the full 25,000 square feet available at Keenan Commerce Center, handled by Gary Emerson of GRE Partners and Kristy Kelly of Long Realty Commercial. Also fully leased is Silverbell Flex Center at 2706 N Silverbell Road, the final lease to Yoga Loft, handled by Isaac Figueroa of Larsen Baker. Pre-leasing activity continues to be strong with the current remodeling of Rio Nuevo - Sol Block at Broadway and Tucson Blvd. also handled by Isaac Figueroa of Larsen Baker.
The following leases and renewals were reported to Real Estate Daily News from April 24-28, 2023
INDUSTRIAL – FULLY LEASED - 2861 N FLOWING WELLS, TUCSON, 85705, Central
Alliance Exposition Services, LLC, a  trade show contractor, leased 25,000 square feet at 2861 N. Flowing Wells Road in Keenan Commerce Center from Keenan Investment Company keeping the project at 100 percent occupancy after a recent vacancy.  Gary Emerson of GRE Partners, LLC represented the landlord and Kristy Kelley of Long Realty Commercial represented the tenant.
RETAIL – 1101 S NACO HWY, #B-1, BISBEE, AZ, 85603
Jaguar Fitness Elite has leased an additional 4,100 square feet at Bisbee Plaza, 1101 S Naco Hwy., Suite B-1, in Bisbee, AZ. Elaina Elliott and Isaac Figueroa handled the transactions and represented the Landlord.
RETAIL – SOL BLOCK AT BROADWAY & TUCSON BLVD., TUCSON, 85716, Central
Caps & Corks has pre-leased 2,369 square feet at its Sol Block project on Broadway east of Tucson Blvd. Caps & Corks will provide a tap room selling tap and packaged beer with some wine and other related products. This will be Caps & Corks' second location, the first being located at Marana Marketplace. Isaac Figueroa with Larsen Baker represented the Landlord and handled the transaction.
OFFICE – 4237 W INA RD., TUCSON, 85741, Northwest
TrueNorth Counseling, PLLC has leased 1,869 square feet at 4237 W. Ina Road, Suite 105 & 4249 W. Ina Road, Suites 105/107, from Sun Creek, LLC, the landlord.  Cameron Casey and Robert Nolan of Oxford Realty Advisors represented the Landlord in this transaction.
RETAIL – FULLY LEASED - SILVERBELL FLEX CENTER, TUCSON, 85745, West
Larsen Baker is pleased to announce the final lease at the Silverbell Flex Center on Silverbell north of Grant. Yoga Loft leased 1,200 square feet of retail space in Suite 1160 in building 1 at the center, 2706 N Silverbell Rd. The leasing team at Larsen Baker helped close on a total of 17 new tenants for the center which had previously been vacant for two years prior to Larsen Baker taking over the leasing and management in September of last year (2022). Isaac Figueroa with Larsen Baker handled this transaction on behalf of the landlord, Sunset Ranch Flex Center, LLC.
RETAIL – 150 S CAMINO SECO, #422, TUCSON, 85710, East
DL Sharper Image Carpet & Upholstery, Inc. Cleaning has leased 1,000 square feet at 150 S Camino Seco Suite 422, Tucson, AZ, commonly known as Camino Seco Business Plaza. Michelle Ward and Isaac Figueroa represented the Landlord, Larsen Baker and handled the transaction.
Submit sales and leases to REDailyNews@outlook.com